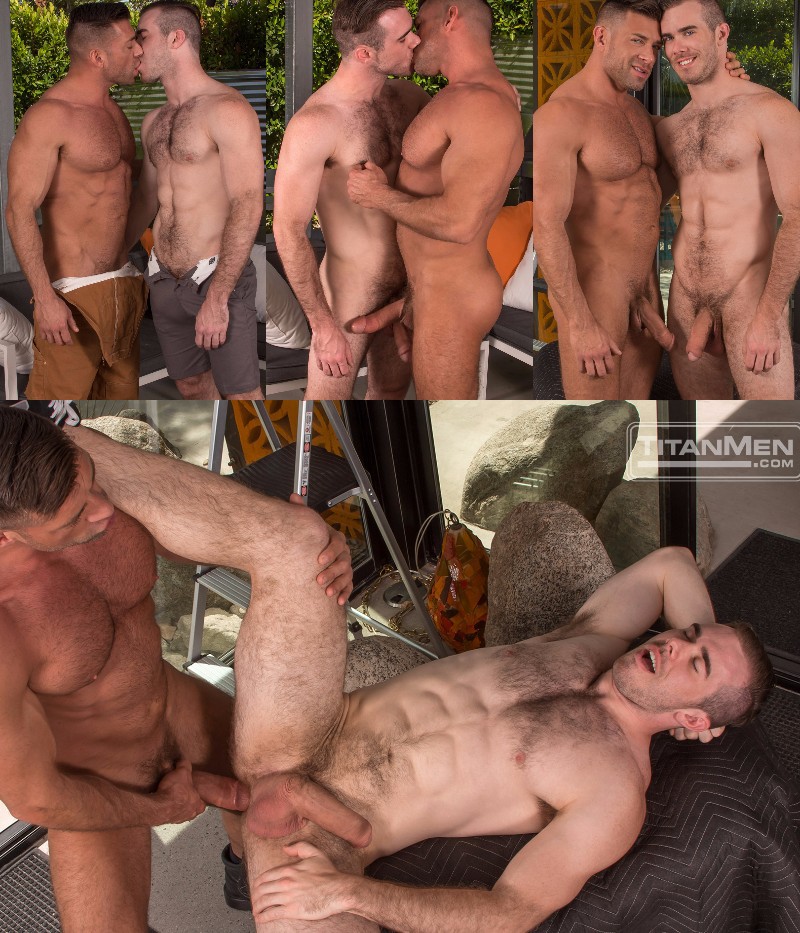 Save 25% on Your Titan Men Membership - Click Here
Bruce Beckham is standing on a ladder trying to fix the automatic garage door mechanism and Matthew Bosch is steadying the ladder. It's a hot summer's day and Bruce finally unbuckles his overalls and lets the bib fall forward, exposing his awesome body. Matthew sucks wind and can't believe the great view. Come inside and see what happens next.
Titan Men just extended Matthew Bosch's exclusive contract for another year. The furry hunk signed on with the studio last year and made his debut in the studio's election themed movie called Cauke for President. The handsome 28-year-old played a closeted conservative senator running for president. Since his introduction, Matthew followed up in Blueprint with Eric Nero and then two scenes in Package, one with Hunter Marx, the other with Dirk Caber. And now he's doing another double-hitter in Say Uncle, one scene with Eddy Ceetee and this flip flop with Bruce Beckham.
This is the second scene from Titan Men's Say Uncle. In the first scene, Luke Adams helped out his buddy Matthew by doing some work with handyman Anthony London. And Adams got a butt full of the handsome hunk in the process. Now, it's Matthew's turn. He makes small talk with Bruce and inquires about his wife, but to make a long story short, Bruce got divorced a little while ago after he came out of the closet. The beefy hunk asks Matthew if that's cool with him. "Are you kidding?" Matthew laughs. "I used to jerk off thinking about you." And he moves in for a grope.