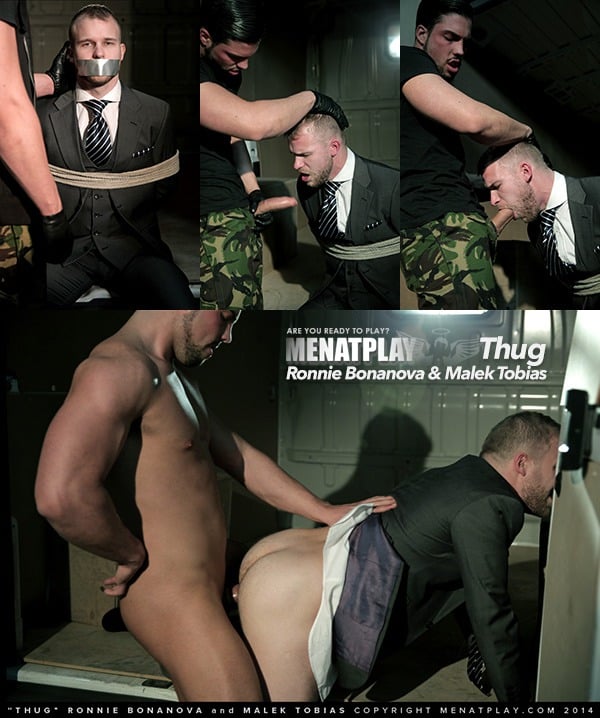 Spanish hunk Ronnie Bonanova didn't intend to make executive Malek Tobias give him head. Not at first. As Men at Play's "Thug" opens, Ronnie's backing his van into a warehouse, and when he opens the back door, we see Malek bound with rope and gagged with duct tape. The thug rips off the tape and barks, "Give me the code."
I don't know for sure, but I think Bonanova should reconsider his career as a criminal. Why? Well, normally one beats an uncooperative captive. When Tobias won't give up the code, does Bonanova back hand him across the face or pistol whip him? No. He unzips his camouflage pants, hauls out his 10-inch dick, and shoves it in Malek's mouth. Then he holds Malek by the head and throat fucks him. Stupid criminal. How's this CEO going to give up the code with a giant cock in his mouth?
But the executive survives the face fucking and still, mum's the word, although he's gasping for air. Now Bonanova is frustrated and horny. Maybe an ass full of cock will get this suit talking. Bonanova rips a hole in the back of Malek's trousers and fucks him over the edge of van. Malek isn't giving up the code, but he's sure making a lot of noise with that monster plugging his hole. And by the end of this ordeal, his suit is going to need dry cleaning.