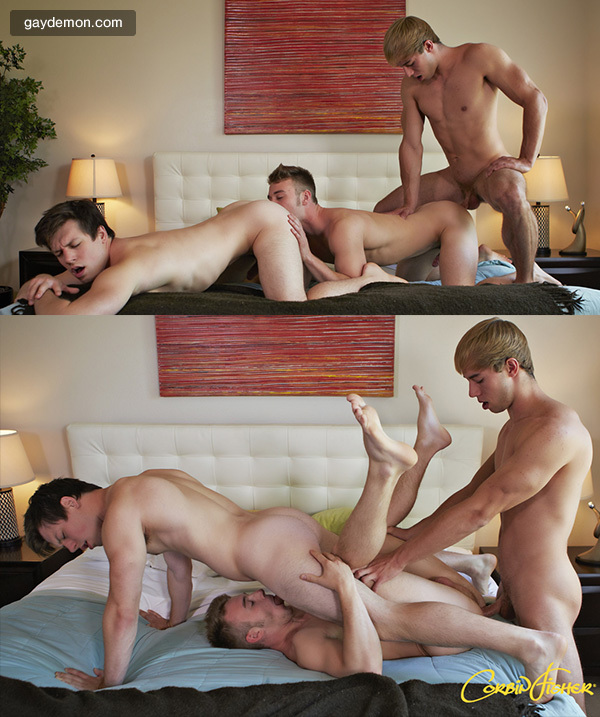 Threesomes almost always look hot in porn, don't they? Everyone and everything is perfectly positioned and orchestrated. It's pretty easy when you've got a director planning it all out and telling you exactly what to do when. I'm not down on threeways, not at all, I've had some great ones. And when the chemistry is there, it's fun discovering all the difference ways to make each other feel good. But even with a director calling the shots, the three guys in a porn video have to have a spark for each other -- it's pretty easy to see when it's not there.
In this Corbin Fisher video, Brayden is man in the middle and he's getting tag teamed by blond-haired Jacob and beefy Kellan. And from the get go, it's pretty easy to see these three are revving pretty hard. Brayden is on his knees when the cocks come out and he swallows Kellan's first, Jacob's big dick is lying across the top of Brayden's head, waiting. When Brayden turns and swallows Jacob's bone, the blond looks at Kellan and says, "Oh yeah, make him suck it." Dirty boy!
Once the fucking gets started, Brayden is lying on his back, Jacob is holding his legs in the air and fucking him. Meanwhile Kellan kneels over Brayden's face so he can get his dick serviced. Jacob sees and opportunity and leans forward and puts his lips on the top of Kellan's dick and pushes it down onto Brayden's lips. It's so fucking hot watching Kellan fucking their lips. Like I said, when three guys are in sync like this trio, you end up with a very hot session.