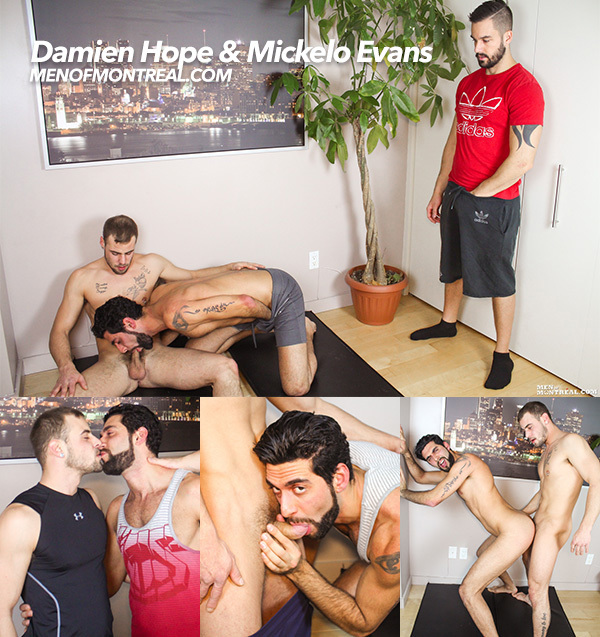 Felix Brazeau is playing a game with a couple of the regulars at Men of Montreal. The game is called "Taking Orders" and Damien Hope and Mikelo Evans have to do whatever Felix tells them. Felix starts off with push-ups, then a kiss, and finally tells Mikelo to suck Damien's cock. While the bearded stud gulps Damien's bone, Felix pulls out his own and strokes it while leaning against the wall and watching. What fun!
When Felix tells the guys to do a 69, Damien climbs on top of Mikelo and they suck each other's cocks. Mikelo is the better cocksucker of the two and has no problem taking Damien's hard-on deep in his throat. But Damien loves rimming ass, so when Felix orders it, he throws the bearded stud's long legs over his head and buries his face in Mikelo's furry butt crack. Felix lets the rimjob go on for a long time before he tells Damien to fuck Mikelo.
Until this point, Felix has stayed off to the sidelines working his erection, but he's getting close. As Damien pumps Mikelo's ass, Felix squats and unloads his nuts on the bottom's beard and face, and a couple of cum drops even fall into Mikelo's hair. Then Felix leaves the horny pair alone of the floor to fuck their way through the rest of the scene. And by now, they don't need anyone telling them what to do -- they never did, but it was a fun game.