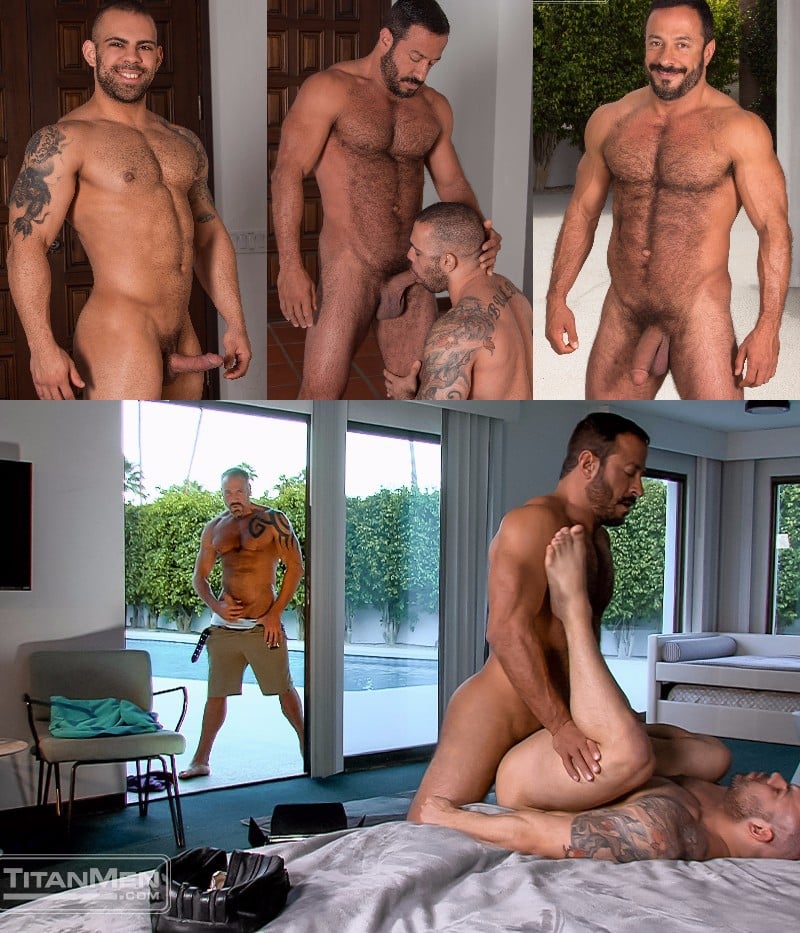 Save 25% on Your Titan Men Membership - Click Here
If you remember the opening scene from Titan Men's Rent, Dallas Steele was trying to figure out how to finance his lover's shoe addiction. He decided that he'd have to rent out one of the rooms in their summer home. Lovers Vinnie Stefano and Lorenzo Flexx are the first lodgers, but Steele gets an unexpected surprise from this pair.
Dallas welcomes the pair of lovers and shows them to their room. Vinnie says he's going to jump in the shower and Lorenzo heads outside to catch some sun by the pool. When Vinnie is finished his shower, he stands in the sliding doors of their room and watches his lover putting on a show for their host -- he's face down on the lounge chair grinding his crotch into the cushion while Dallas watches from inside the house. Vinnie gives Dallas a smirk, then calls his boy into the house to service his dick.
"You really like teasing that big muscle daddy, don't you?" Vinnie teases. "Let's really give him something to watch." Vinnie drops his towel to the floor and Lorenzo falls to his knees. Vinnie puts his boy down on all fours on the floor and fucks his ass. Dallas can hear Lorenzo wailing, so he sneaks over to the doorway and catches sight of Vinnie drilling and smacking his lover's ass. The pair know that they're being watched so they ramp it up even more and Dallas jacks his dick and cums in the palm of his hand. I wonder if they're going to invite Dallas inside for another round.