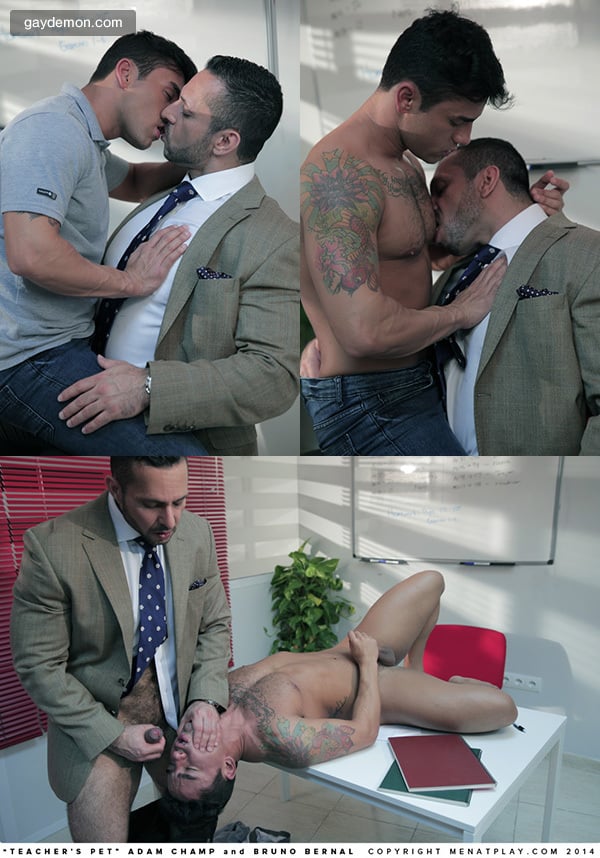 Adam Champ is looking pretty damned good for a man who spent four months immobilized in bed. If you missed it earlier this week, a car accident left Champ bed ridden (see Adam Champ Is Back), but after almost a year of recuperation and intensive rehab, Champ is back in Men at Play's "Teacher's Pet."
Bruno Bernal bursts into the teacher's office and he's pissed that he only got a C minus on his last assignment. Bruno's accent is thick so it sounds like he's calling the teacher Mr. Chump instead of Mr. Champ. Bernal was born in Rio de Janeiro, Brazil to Lebanese and Israeli parents and he's fairly new to gay porn, but has appeared on a number of smaller European porn sites.
Anyway, back to Bruno's predicament. He puts the moves on his teacher to see if he can bump up that C minus. Forget about anything else, the blowjob scene here should earn Bruno an A. He's completely naked and lying back on the teacher's desk, Champ has his trousers around his ankles and he's throat fucking Bruno. I don't mean figuratively, I mean his cock is literally buried in Bruno's throat and the cocksucker's lips are pressed tightly against Champ's pelvis.
Champ grabs Bruno's head and holds him on this big dick until he's ready to let go. Finally he does. Bruno gasps for air, but doesn't choke or sputter. There's a new cocksucker in town and the tops are already lined up to catch the next train to Pornland. Champ smacks Bruno's face with his hand and his cock, then continues ramming his dick in Bruno's mouth. Wow! after watching heaps of just-the-tip head, I'm pretty charged up watching this one. I'm almost sorry when Bruno's swivels on the desk and offers Champ his ass.