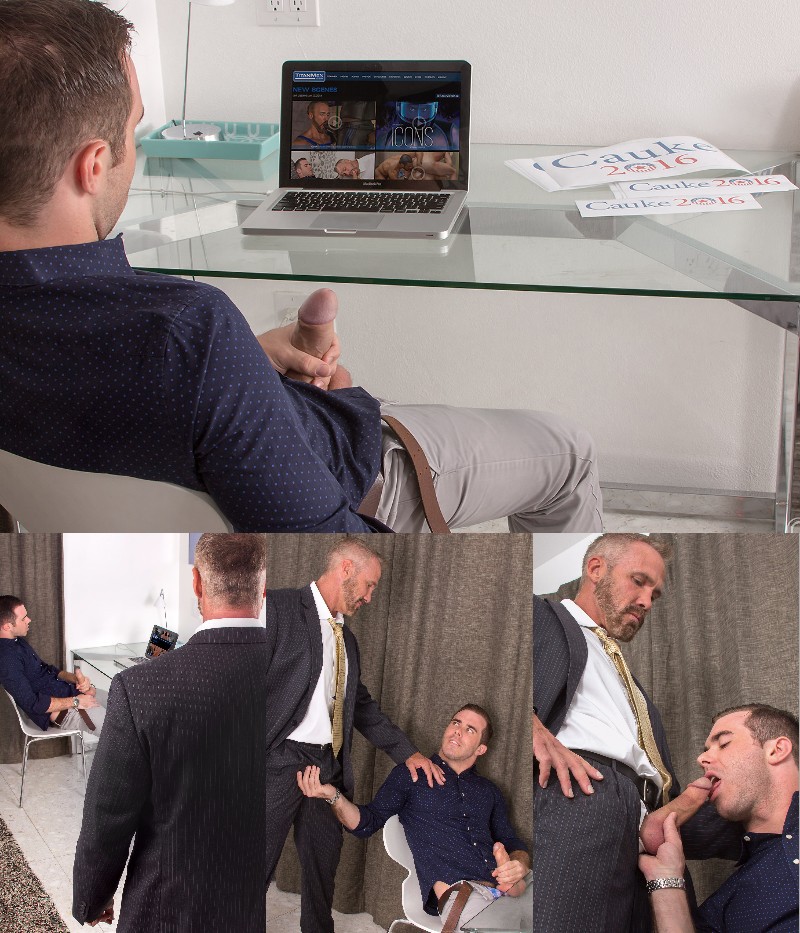 Get 25% Off a Titan Men Membership - Click Here
Senator Mike Cauke (Matthew Bosch) is enjoying a wank at his desk in his hotel suite. He's supposed to be preparing for the big debate. His chief of staff Dallas Steele walks in and catches the senator stroking his fat uncut cock. You know what happens next, but come inside, it's hot.
The senator isn't embarrassed, he doesn't try hiding his cock, and when Steele walks over, Bosch grabs his crotch. Steele unzips and Bosch swallows his big dick. They kiss then head for the bed. This time, Dallas sucks Matthew's meaty uncut cock and fingers his furry hole. After some more sucking back and forth, Matthew straddles Dallas and sits down on his dick. Steele grabs Bosch furry ass in both hands and spreads his cheeks so the senator can get every last inch. "Fuck me harder," Bosch begs.
I'm so happy that Pornland is mostly over shaving for the moment because it would be an absolute crime to ask Matthew Bosch to shave his furry ass. Watching him getting fucked down on all fours is pure heaven. Steele has his hands planted on Matthew's hairy butt cheeks and he's drilling hard. And look at those thick furry thighs. So sexy. If you've been following Cauke for President, there's a surprise ending here involving the Senator's sex tape. You'll want to watch the conclusion of this four-part series.