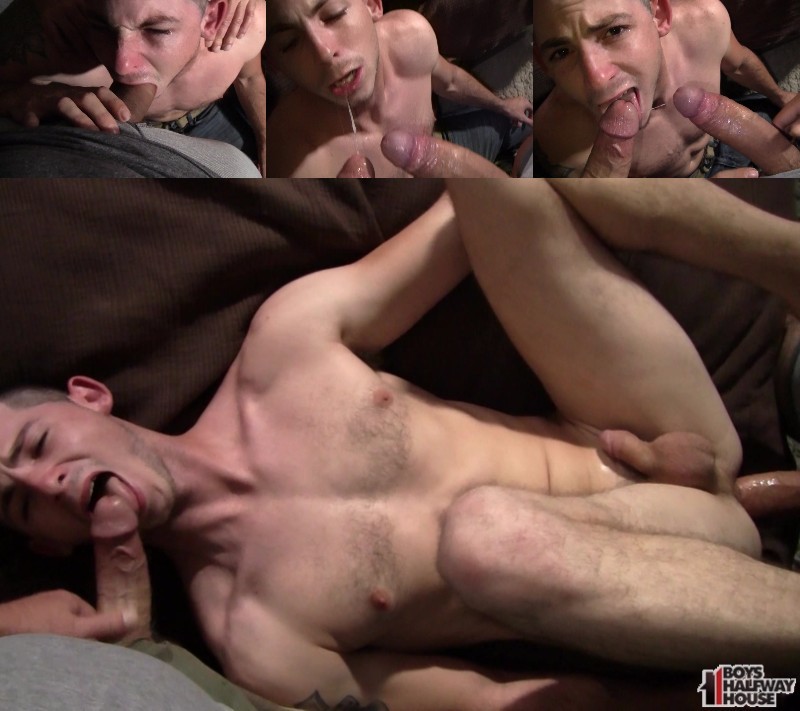 Watch Toby Get Spit Roasted By Two Big Cocks
Toby Springs is no newcomer to Boys Halfway House. He's been in the house several times, so you'd think he'd know the rules by now. But no. In a random search, this dumb redneck is caught with contraband in his room, and we're not talking about some candy or a bottle of booze. He's hidden a knife under his dresser.
Toby denies the blade belongs to him. "The last guy to stay in this room must have put it there," he stammers. Either way, Toby is the one who is going to pay. He's ordered to his knees and unzips the supervisor's pants. Toby gives some measly just-the-tip head until the other supervisor pushes on the back of his head and makes the lad swallow more of this big cock. And even when Toby is crying and slobbering, they feed him some more.
"Lie on the bed and show us your pretty hole," one of the supervisors barks. Then he straddles the lad backwards and playfully slaps his cheeks before pulling them apart and fingering Toby's tight pucker. The two supervisors take turns stretching out Toby's tight hole. The lad yells his head off, but in the end he takes it. Toby has been here before and knows it's better to let the supervisors have their fun. The quicker they cum, they faster it'll be over. But this pair aren't in a hurry, so Toby is in for a long ride.
See more at Boys Halfway House