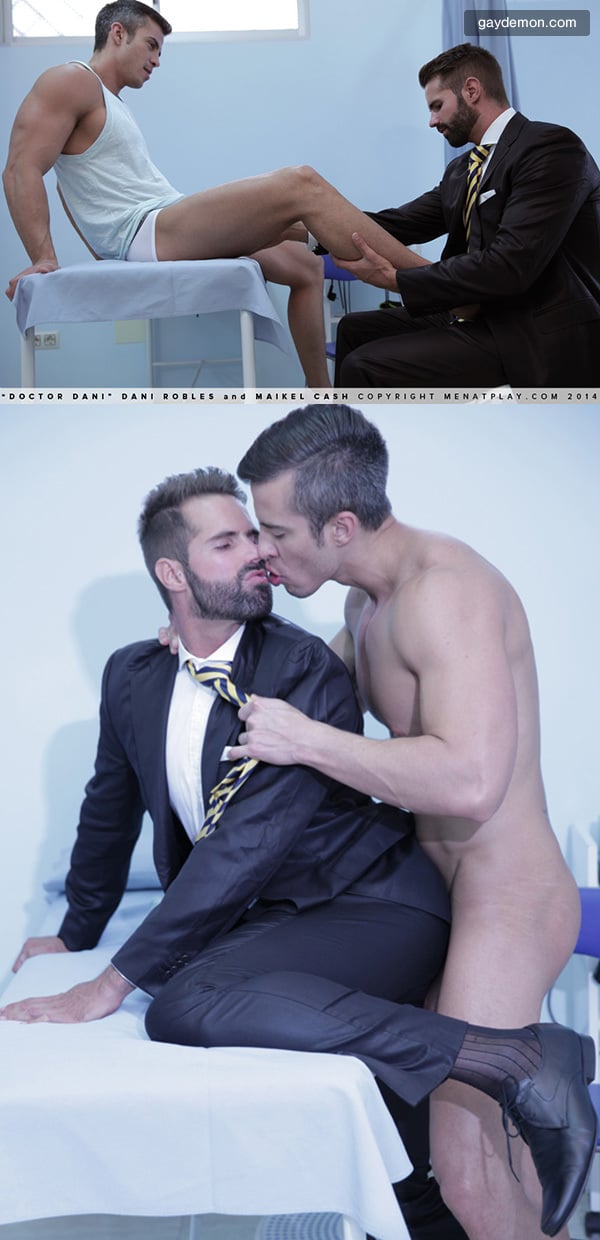 Doctors having sex with their patients is one of those taboo lines we're not supposed to cross. But if your doctor were as sexy as Dani Robles, could you resist? Would you even try? Maikel Cash doesn't stop the doctor when his fingers wander into his underwear, in fact he encourages him.
In this new video from Men at Play, Maikel Cash comes to his doctor complaining about an ankle injury. Okay, the hottest thing about this scene is that both Robles and Cash speak Italian. So, so sexy. (There are subtitles so we can follow along with the initial set-up.) And the funny thing is that Cash is supposed to have hurt his ankle, but sitting on the examination table, he keeps telling the doctor that the pain is higher up his leg. Eventually Robles fingers are perilously close to the leg hole in Cash's underwear briefs and the stud again says, "A bit higher."
Robles finally pulls out Maikel's cock. OMG! This hunk is packing one giant cock head. It's massive. And it's not just the camera angle, Robles worships it -- licking it with his tongue and rubbing his lips around it -- that's one seriously bulging head. But the doctor does swallow it staring up at his patient with his sexy brown eyes. It's even more fun watching Maikel giving the doctor his prostate exam. Man, I can only imagine how good that fatty must have felt pushing deep inside Robles' hole.