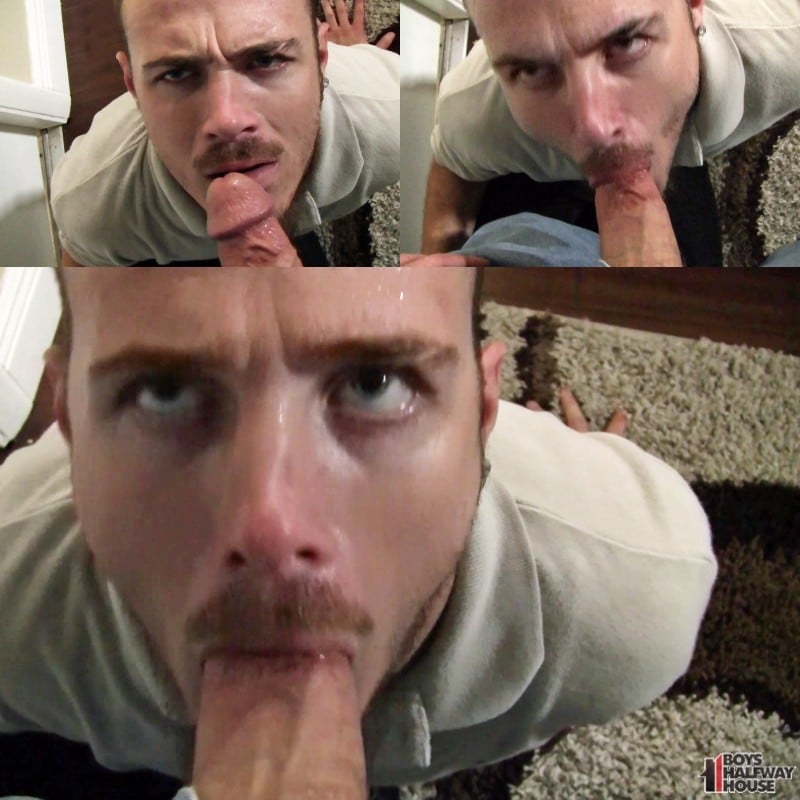 Tyson has just arrived at Boys Halfway House, but he's no stranger to trouble. He's been in and out of jail a few times, but he doesn't seem to be learning his lesson. In spite of being reminded about being on time, this is Tyson's fourth time being late. The supervisor gets him as soon as he walks in the front door.
The supervisor pushes Tyson to his knees and starts unzipping his jeans. Tyson looks like he might haul off and hit the guy, but he knows that would send him right back to jail. If Tyson has learned anything, it's that you can't fight the system and it's better off to take your licks and get it over with as quickly as possible. (I guess that's two things.) So he opens wide and swallows the supervisor's big cock.
Tyson hopes that he's going to get away with a quick blowjob, but that's rarely the case around this halfway house. The supervisor orders Tyson to his feet and pulls down Tyson's pants, then he tells him to assume the position on the floor. Tyson rolls his eyes and huffs, but he does what he's told. The supervisor mounts him doggy style and shoves his meaty cock inside the lad's hole. "This is one of the best holes I have ever been inside," he groans. And much to Tyson's chagrin, the supervisor intends to make this fuck last.
See more at Boys Halfway House