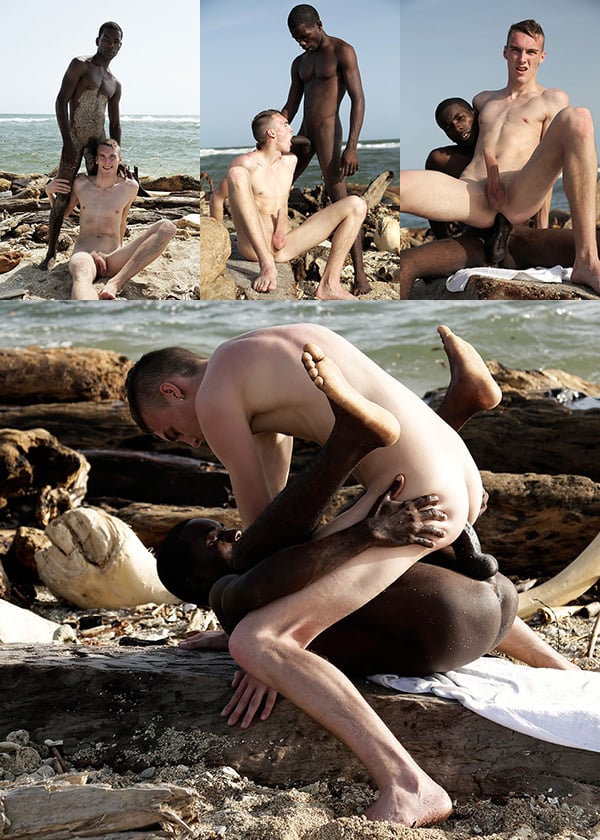 There's a fucking position that I've seen quite a few times over at Staxus, but I have no idea what it's called. You can see it in the collage here, it's the large picture. The bottom mounts his top as if he's going to fuck him in a "deep impact" position, and he even pushes the top's legs forward and wraps them over his thighs. Then he sits on the top's hard-on and bounces. It's a great position for bottoms who want to be in a bit more control -- maybe even feel like a top -- and it gets the dick sliding deep in their hole. Mike James is demonstrating this position with Devon LeBron in one of the latest Dominican Republic beach sex scenes over at Staxus.
I had to laugh when this video first started. Devon and Mike are horsing around in the surf, then they settle on a log to do some kissing. Devon hauls his 12 inches out of his swimming suit so that Mike can suck it and he brushes the sand off his massive meaty cock. Um, dude, you're going to have to do better than that, no one wants a mouth or ass full of grit. But Mike does seem to mind a bit of sand and starts gulping Devon's monster.
They put a towel down and Devon greases his dick and holds it as Mike tries impaling himself on it in reverse so we get a good close-up. Mike goes halfway down and he's struggling. Mike tries that "deep impact" position I mentioned up top, then he tries taking Devon doggy style, but he never manages to take more than half of it, okay, maybe a bit more as Devon rams him, but certainly nothing close to balls deep. And when Mike can't take anymore, he sucks off Devon and offers his tongue for Devon to coat with sperm.
So how about it, do you have a name for this position? Make your suggestions in the comments below.