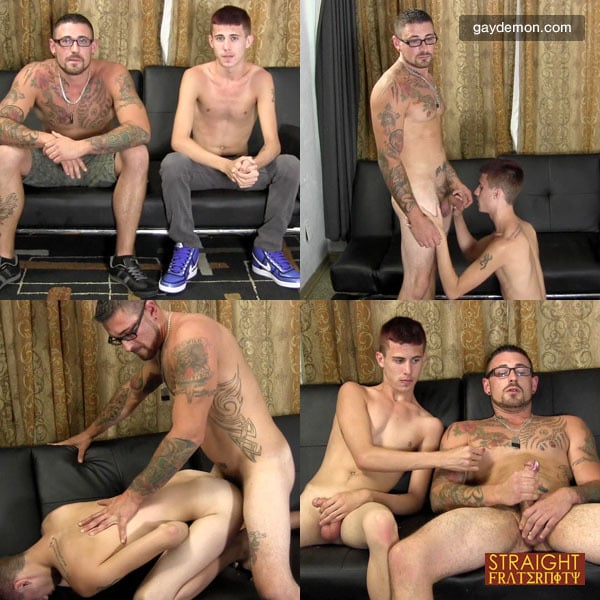 Straight military muscle hunk Lane is at Straight Fraternity today to earn some gay-for-pay dollars by fucking the tight little arsehole of an 18yo twink named Carson.
The guys start off sitting side-by-side and shirtless on the sofa and Lane's big beefy tattooed body is huge when compared to Carson's trim, slim and smooth twinky lad's body. The guys stand up and face each other and even tho they are the same height, the upper-body bulk difference is even more marked! But when they drop trousers, Carson holds his own in the dick-size department!
Carson drops to his knees and takes Lane's soft cock into his mouth, getting it hard for what they both agreed would happen later. Yep - that's right - Lane is going to fuck the tight little butthole between Carson's cute little twinky butt cheeks!
But before that happens they sit back down on the sofa and start jacking their cocks and Carson continues to suck on Lane until they are both up and rock-hard. Then Carson gets a rubber and puts it on Lane's big dick before getting on his hands and knees, pushing his butt out, offering up his tight little hole for Lane to fuck. Lane, being a typical straight guy, probably thinking he's about to fuck some pussy, just positions himself behind Carson and inserts his cock all the way in - in one fell swoop! Poor little Carson almost faints with the speed of the intrusion and falls forward and Lane's cock falls out of his arse and the cameraman advises Lane to take things slower ... and use more lube - a LOT more lube!
They try again, and this time they both know what to expect and thing go a lot more smoothly. Lane is able to get up to the speed he likes and really pounds Carson's hole - at one point Carson even says he can thrust faster if he wants to! Soon tho, the intense feelings get all too much for the young Carson, and he actually shoots his load all over the sofa while still being fucked. The orgasm takes its toll on the youngster tho and he looks faint afterwards and the cameraman again has to check he's okay ... but he is fine! Not long after we see him sitting alongside Lane, playing with the older guys nipples as Lane sits back on the sofa, cock in hand, beating off until he spews his own cum load all over his muscular abs - and the whole time the wide-eyed Carson watches in awe and takes it all in!
It may have been a fucking hard fuck, but it was fucking hot fuck too!
See more at Straight Fraternity