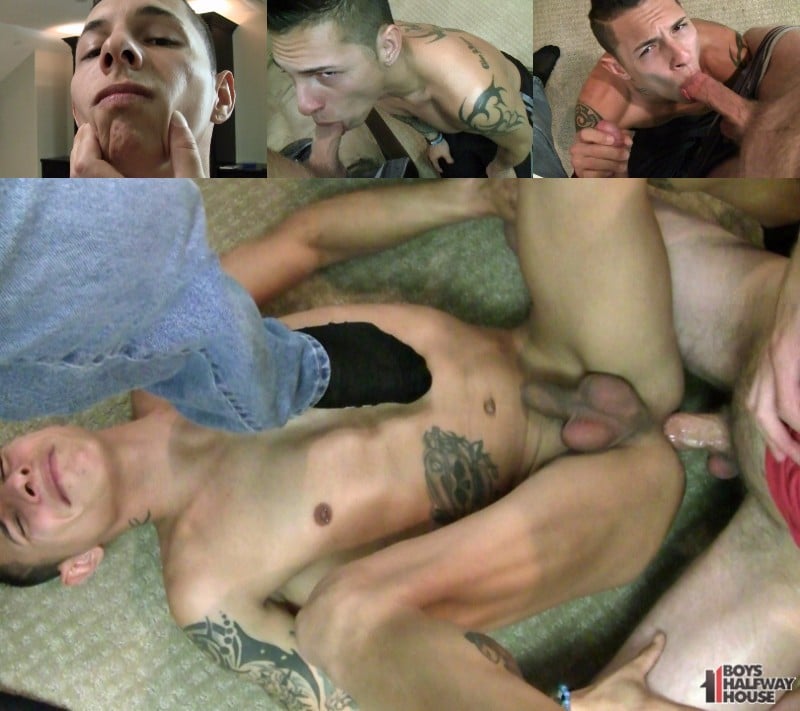 Watch a new video every week at Boys Halfway House
As if a name like Stone wasn't bad enough, but this jailbird is stupid as a rock -- talk about a guy living up to his name. Stone sneaked out of Boys Halfway House, which violated his parole, and then he got arrested. After a "friend" bailed him out of jail, he showed up at the halfway house a full day later as if nothing had happened. Come inside and see what's waiting for him when he gets home.
When Stone arrives back at the halfway house both supervisors are waiting for him. He walks in like he's just getting home from a walk in the park. The house is predictably quiet, the other residents are hiding out in their rooms -- they know what's in store for poor Stone. And the supervisors want to make him a shining and loud example for the other residents. Everyone is going to hear him getting his ass pounded just in case anyone else has any bright ideas of stepping out of line.
The dicks come out and Stone is pulled onto one, then the other. One of the supervisors pushes Stone to the floor with his foot, the other spits on him then holds him down with his socked foot while the other slides into Stone's ass. They drag him over to the couch and push his face into the sofa, then take turns fucking his tight hole. One nuts in his hole, the other holds Stone's head and fills up his mouth. Did Stone learn his lesson? Probably not. But there's always next time.
See more at Boys Halfway House