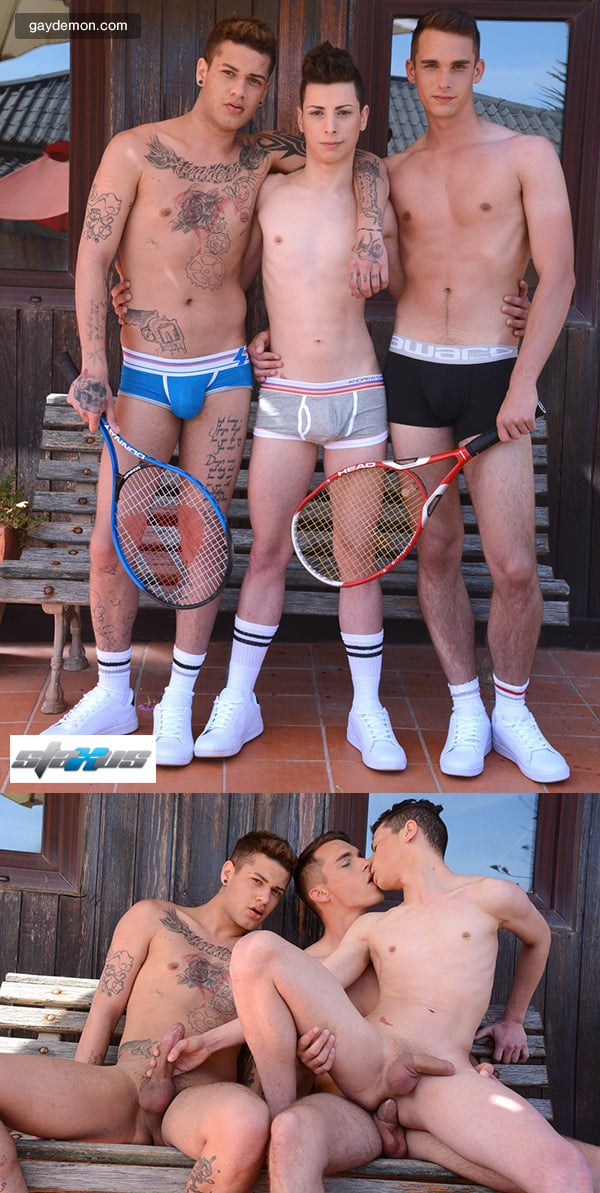 Wimbledon is history for another year and Novak Djokovic got his well-earned victory. We might as well celebrate as porn hogs do with a tennis scene from Staxus. But there's another reason to celebrate: this is the 1500th video over at Staxus. What a milestone!
The site recently headed off to Portugal with some of these guys to do some filming and this is one of those scenes. Tattooed stud Mickey Taylor started filming with Staxus a little while back and I believe this is his fourth scene. (I've been told that he has filmed a total of eight.) Joining Taylor in Portugal is Hungarian stud Orlando White who has fucked a lot of ass on the site. He's one of my favourites.
Alex Santana is a young local guy who Staxus picked up to round out this tennis threeway. He's a cute doe-eyed lad, slender and smooth, and loves getting his tiny butt fucked. That's a good thing because between Mickey and Orlando, there's 16 inches of dick and it's all going inside this pretty bottom.
The three guys play on a bench in the shade just off the tennis court and Alex takes turns riding both of their dicks, but it's Mickey's brutal thrusting that makes the Portuguese boy shoot his load all over the ground.