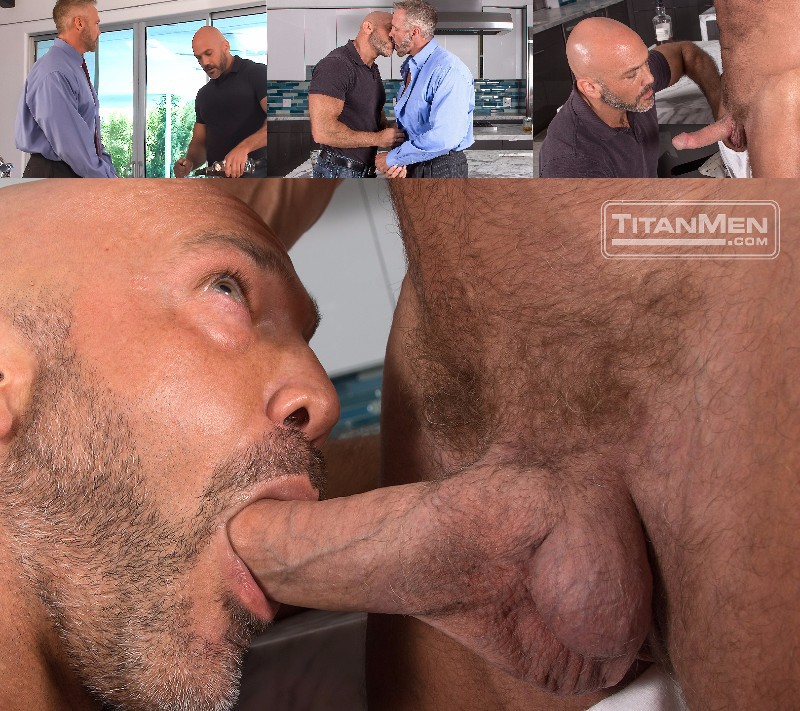 Save 25% on a Titan Men Membership - Click Here
Titan Men's Out comes to a conclusion in this fourth part with sports reporter Jim Weaver (Dallas Steele) having drinks in baseball player A.J. Benson's (Jesse Jackman) kitchen. Steele is impressed with Jackman's very public coming out on the news, but he's got a confession of his own.
When they played ball together 20 years ago, Dallas Steele had a crush on Jesse Jackman, and he confesses it as they're relaxing over drinks. "Wish I'd known," says the baseball star, then Jackman leans in for a kiss. As they neck, Jackman gropes Steele's crotch and pulls the hunk's stiffening cock out of his pants. He's down on his knees in no time and gulping his buddy's dick.
After taking a turn on Jackman's big hooked cock, Reeves bends him over the counter and chows down on his butt. "You are so fucking tight," he says sliding inside. And the two men fuck each other in the kitchen, on the living room couch, and even on the floor before blowing their loads together.