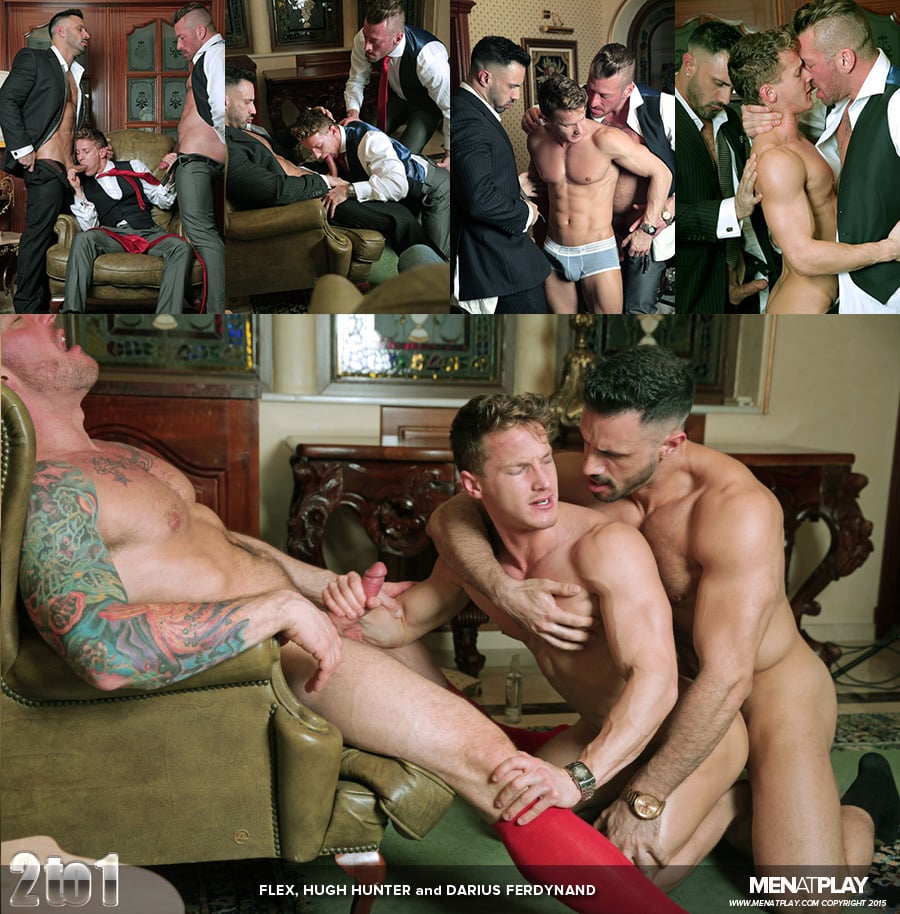 At this gentleman's club, Flex is used to getting whatever he wants. In Men at Play's 2 to 1, Hugh Hunter works as the club's barman and he's sucked the executive's big cock from time to time. On this occasion, Hunter is training a new bartender and Darius Ferdynand immediately catches Flex's eye. When Hunter heads over to see what the gentleman would like to drink, he motions Hunter to lean down, then whispers in his ear. Hunter returns to the bar, "You're doing some overtime tonight, it's mandatory." Darius looks pissed, he was just about to go home.
Hunter orders Darius to get on his knees and suck their customer's cock. Darius does what he's told, he needs this job, but he's no stranger to sucking dick, among other things. Hunter stands nearby and watches, then Flex invites the hunky barman to join him in servicing this blond lad's mouth and ass. Darius has wondered what his boss is packing in his pants and now he finds out -- a thick stump of meat that he knows is going to hurt going in his backdoor.
While Darius blows Flex, Hunter leans over him and kisses the executive passionately. They stand and strip off Darius' clothes, then Darius kneels on the chair and the two men twirl him back and forth to work their hard-ons. On one of his turns, Flex shoves his dick in Darius' ass and grunts on it while Hunter stuffs the blond's throat. The men take turns filling Darius' hot little butt and when it's all over, Darius is covered with juice. How's that for a guy's first day at work? Where do I apply for a job?