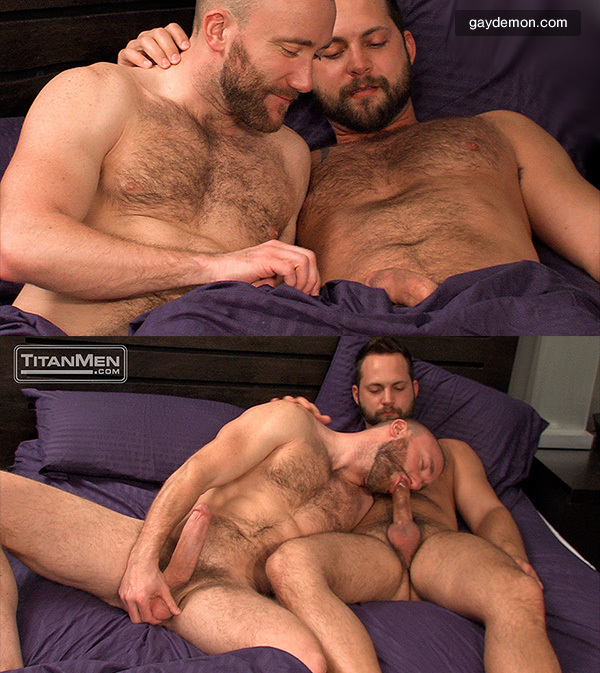 I don't know how Nick Prescott could even sleep with this hairy hunk lying beside him. Tyler Edwards is just too sexy for sleep. That beard, those eyes ... I'm pretty sure if Tyler were in my bed that we'd still be up from the night before doing it for the third or fourth time. Am I right?
In this new Titan Men scene from Morning Wood, Nick wakes up first and caresses Tyler's arm. He wakes, they smile, then kiss, and Nick pulls down the sheet. "Good morning!" yells Tyler's erection. Nick gives it a kiss, then wets it in his mouth before swallowing it balls deep. I already know that Prescott can suck dick, I've seen him plenty of times, I'm interested in the new guy.
And indeed, Edwards gives very good head. Nick sure isn't complaining. In fact, he really loves it when Tyler pulls on his nuts at the same time. Nick's eyelids are fluttering and he's moaning, then finally his need to get fucked takes over and he's on all fours barking, "Spit on my hole!" So bitchy first thing in the morning. Tyler does what he's told and after a good munching session, Nick pushes him back on the bed and sits on his cock. But Tyler takes over and puts this bossy bottom back on all fours and screws him good.