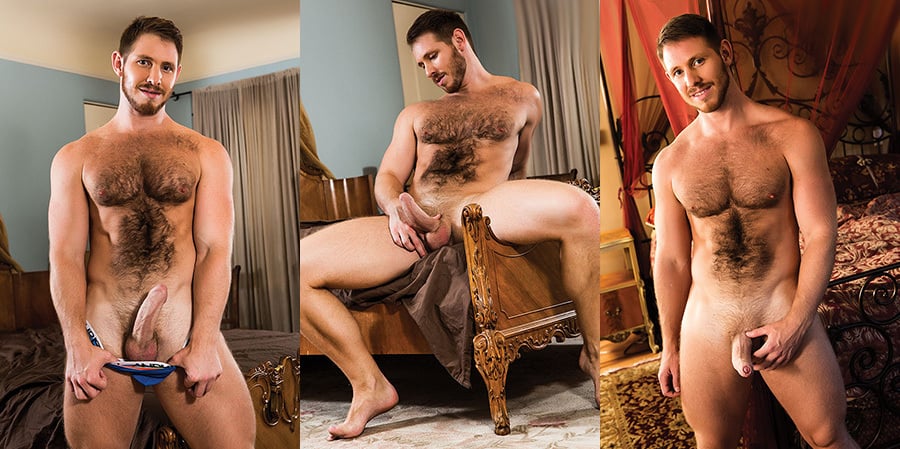 We're used to porn hunks retiring and coming back, in fact, it's an ongoing joke in our business that most retirements never stick and are mere extended vacations. Though sometimes you wish they would stick. But Spencer Whitman isn't one of those. He hasn't filmed porn since about 2010 or so, and looking at his pictures from back then, you wouldn't event think it was the same guy. Come inside and see the then and now pictures.
During his first stint in gay porn, in 2006 and 2007, Spencer Whitman filmed a dozen scenes with Corbin Fisher. His bio says that he was 18 at the time, but who knows, he's apparently 27 years old now, so the math isn't adding up. Regardless, he still hadn't shed his boyish good looks. His body was slim and more athletic than muscled, and while his torso was furry back then, he kept it clipped short. After Corbin Fisher, he did a few more scenes for a couple of now-defunct gay porn sits, and then he disappeared. Five or more years later, he back and talk about manning up -- Whitman is handsome, bearded, very hairy, beefy and muscled, and he's packs a walloping juicy uncut cock (well, he always had that), but the boy is definitely history.
Whitman chose Lucas Entertainment for his comeback, or these chose him. And his first scene is an intensely passionate flip-flop fuck with Rafael Lords. About six inches of height and 65 pounds separate these two, but the diminutive Lords has no problem climbing on top on this hunk and pounding the hell out of his beautiful ass. And that's very sexy to watch. Don't you love little guy topping bigger ones? But I really get off watching Spencer sliding his big dick into Lords -- his cock looks massively huge disappearing into Lords' tiny butt. And as far as comebacks go, this scene is spectacularly hot. By the end, Spencer is flushed and covered in sweat and Lords is exhausted and spent and covered in two loads of jizz.
See more at Lucas Entertainment