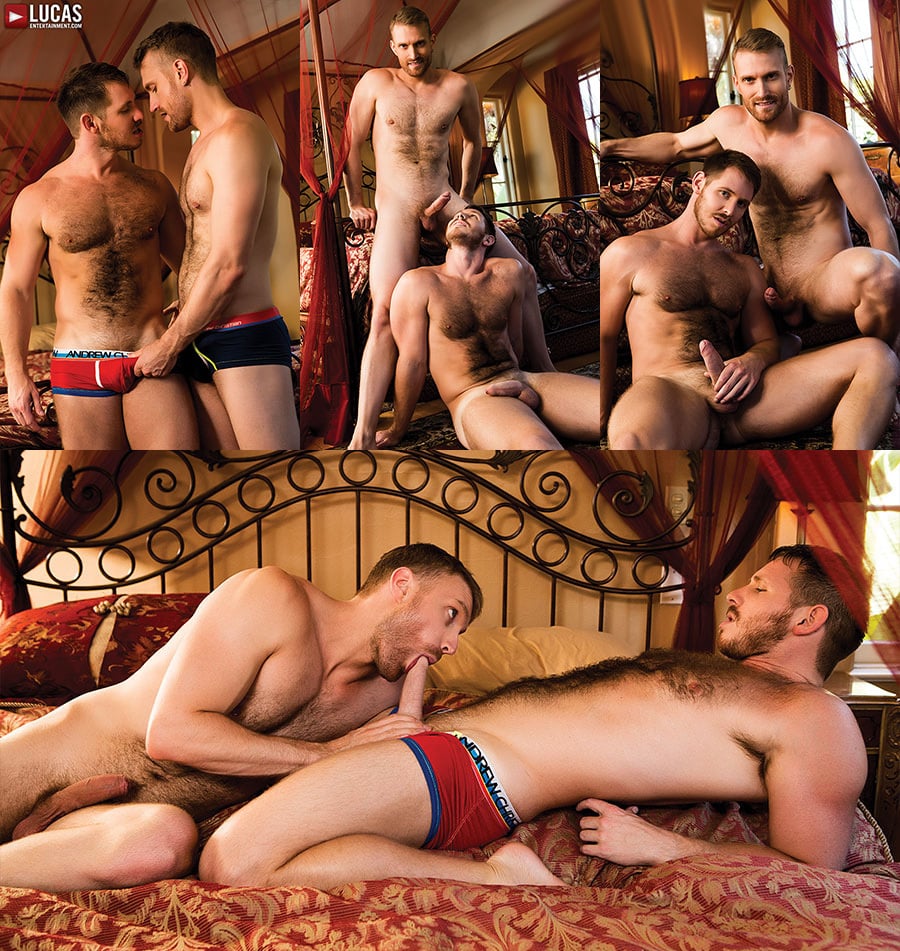 We didn't have to wait long for Spencer Whitman's second scene. The handsome stud's first video in over five year just debuted last week on Lucas Entertainment, and a few days later, he's back again flip flopping with handsome hunk Evan Lance in the second episode of Bareback Boyfriend Swap. And I liked this scene even more than his first one with Rafael Lords, although that one was on fire too.
Spencer Whitman and Evan Lords are playing partners in Bareback Boyfriend Swap, but it turns out they're a couple in real life. When I looked up Whitman's escort profile for his stats I saw this: "If you're looking for another hairy, uncut, hung stud to join us, check out Evan Lance for threeway sessions." That would be a hot night, wouldn't it? Expensive, but hot. So I put on my Scobby Doo hat and went digging, and discovered that Spencer and Evan have been together for nearly four years. They hooked up at the White Party in San Diego, and after sorting out the logistics, they have been together ever since.
I loved watching these two fuck. Not only are they passionate and know how to please each other, but they're similar in so many ways that makes their pairing so damned sexy and fun to watch. They're colouring is similar, one blond-ginger, the other blond-brunette, both bearded and furry, they're each packing an eight-inch uncut cock, and they both top and bottom. Spencer screws Evan first, and while Evan drills his hole, Spencer cums first and Evan squeezes every drop of cum out of his boyfriend's foreskin and laps it up. Then Spencer watches as Evan's super hard dick explodes jizz all over his nuts, and we watch as it slides down and over his butt hole. This is definitely a must-see. But you don't want to miss Evan Lance in the third episode of Bareback Boyfriend Swap with Jake Andrews, which was just released today.
See more at Lucas Entertainment