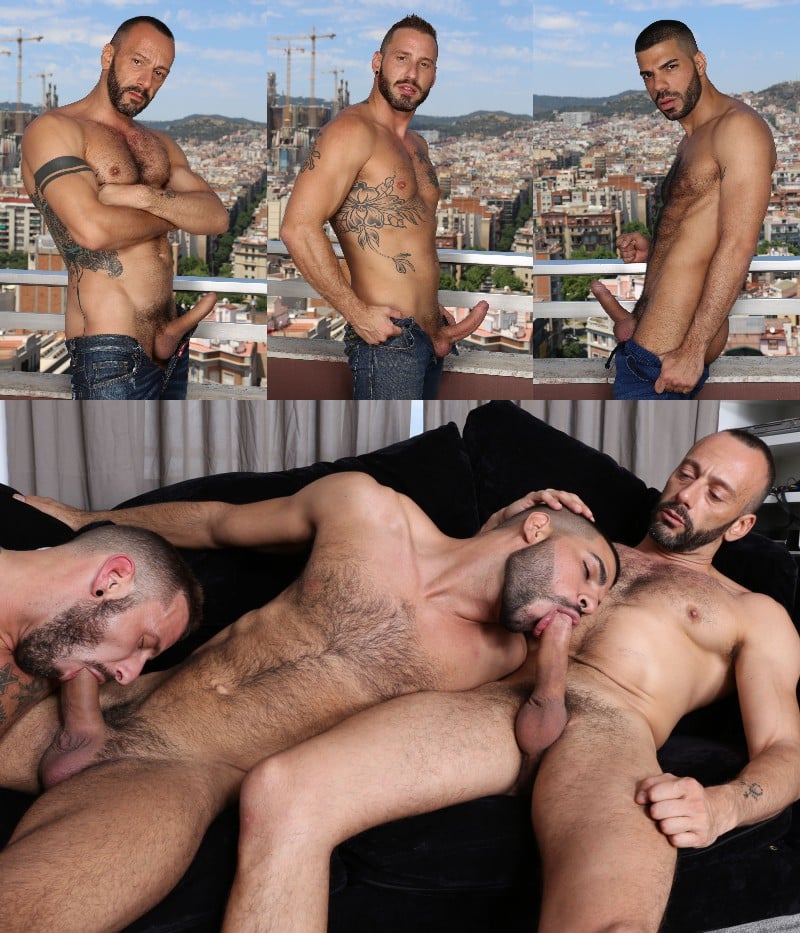 Remember the Czech invasion of porn back in the 90s? How are you enjoying the Spanish takeover of Pornland? It's been underway for a couple of years now and with sexy bearded hunks like Antonio Miracle, Hugo Arenas, and Alberto Esposito fucking in a bare threeway, how could you not be enjoying it. Come inside and see these hunks enjoying each other's cocks.
This is the sixth scene from Kristen Bjorn's In the Flesh series and it brings together a number of sexy things in one hot fucking scene: beards, men in jeans, uncut cocks, and bareback sex. And there's no real story line here, just three masculine men fucking on a beautiful summer day. Antonio, Hugo and Alberto enter the room and start pulling their meaty cocks out of their jeans. Esposito drops to his knees and gulps on these two big, beautiful uncut dicks. (He's the one with the double-line bicep tattoo.) He even stuffs both hard-ons in his mouth at the same time.
The men do some chain sucking on the couch, but I'm anxious to see how these men are going to fuck. Antonio climbs on top of Hugo and while they 69 each other, Alberto pumps Antonio's ass. And Alberto shoots the first load of the scene creaming Antonio's ass. But the horny bottom wants more, so the men lie together on the bed with Antonio in the middle. His cock slides into Alberto's ass in front of him and Hugo pushes into Antonio's hole from behind. Antonio is in heaven both fucking and getting fucked. With two more cummy hole shots on the way, you won't want to miss this one.