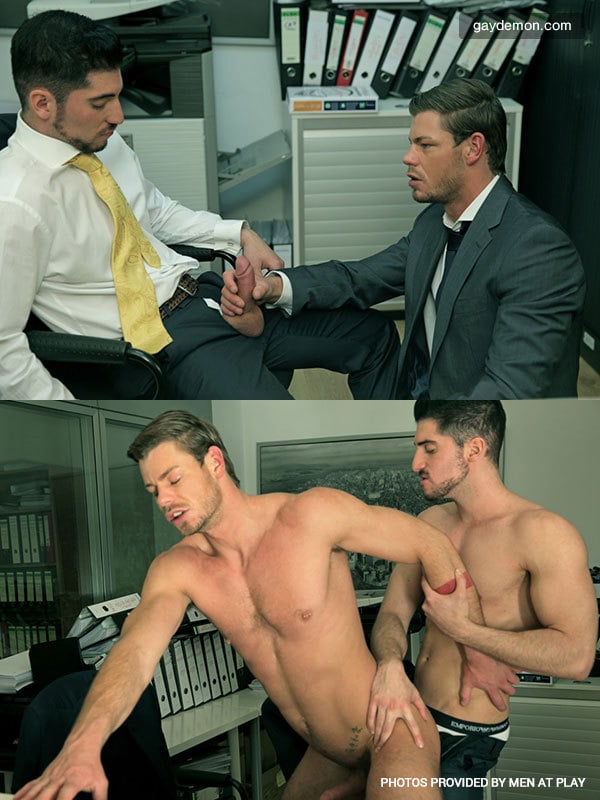 Considering the Netherlands has a very liberal attitude toward sex, we don't see a lot of Dutch men in gay porn. I'm not sure why. We get inundated with the same nationalities in porn videos -- American, Czech, British, Italian, Brazilians -- so it's exciting for me when I see a man from somewhere a little different. It's always fun seeing what I might find if I jumped on a plane and flew to Holland, for example. And this week, Men at Play is introducing us to Toby Dutch.
Toby isn't new to gay porn, he has done some filming with Lucas Entertainment and MEN.com last year, and he did a few scenes for Kristen Bjorn as well. Toby Dutch is a sexy, blond hunk. At times I catch a glimpse of him in just the right way and he reminds me of Matt Damon's bad-boy cousin. He's wearing face scruff in this scene and a patch of fur across his chest and he's sporting a lean, chiseled body, and a juicy uncut cock.
Toby Dutch arrives at the Men at Play offices for his interview and receptionist Leo Domenico instructs him to take a seat in the waiting area. But Domenico can't take his eyes off Dutch, and after a few glances back and forth, Domenico pulls out his dick and strokes it. Dutch unzips his trousers too, and at first tries being discrete by holding up a folder in case anyone happens by.
But this is Men at Play, so there's not much to be shy about. Leo motions Toby over, and the Dutchman drops to his knees and swallows Leo's thick dick. Then Leo bends Toby over the desk and fucks his ass. And I'm left wondering if this is Toby Dutch's interview, or is there another casting couch waiting for him in the director's office?