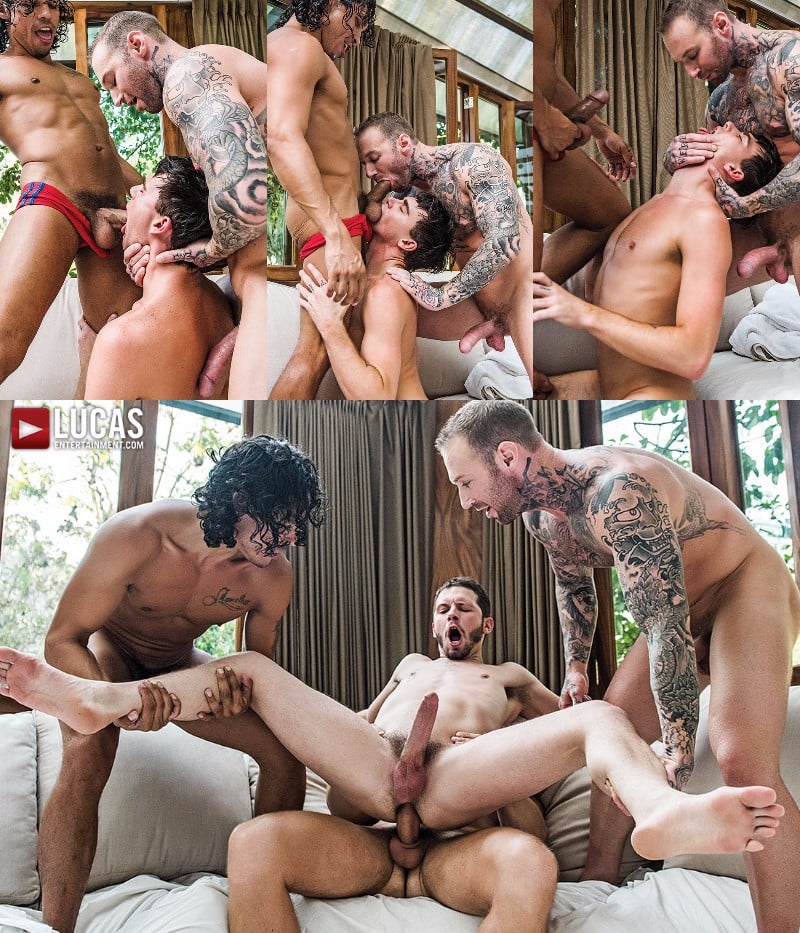 Watch This Seven-Man Gang Bang at Lucas Entertainment
Dylan James, Drae Axtell, and Stas Landon cozy up in the hot tub and get to know each other, and when they go looking for towels they find Koda Gold and Asher Devin messing around, so a horny duo swells to a five-man group fuck with Asher and Koda bottoming for the other three. There are still two more men to join in this raunchy fuck scene.
This is one of the raunchiest orgies I've seen in a while. It's Treasure Island dirty, which is kind of funny because Michael Lucas used to be one of the staunchest anti-bareback voices in Pornland. And three years later, he's pumping out some of the filthiest sex you'd ever hope to see let alone have. (By the way, Michael Lucas released his first bareback scene three years ago during this very month featuring lovers Billy Santoro and Seth Santaro, who was then known as Seth Treston.)
One of the standout moments here is when Koda Gold is ordered to pull a top's cock out of his bottom buddy's ass and clean it up with his mouth. Then later, Dylan James has blown his wad in Asher Devin's ass, and Asher, who is on his hands and knees, pumps his gaping butt hole and pushes Dylan's load out and it dribbles down his scrotum and nuts and onto the sofa. And there's more, so much more. I can't believe how much hotness these studs pack into 43:24 minutes. And I didn't even cover Alejandro Castillo and Andrey Vic joining the fun.
See more at Lucas Entertainment