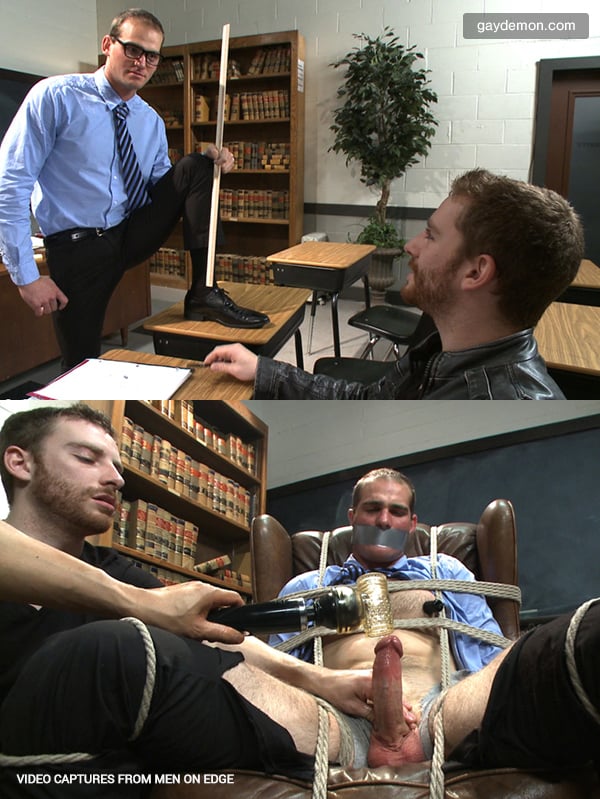 I'm sure you've had a crush on one of your teachers. There were a handful in my time at high school who I fantasized about doing in the classroom. Sebastian is having that problem with Mr. Smith. He's a tall man who is part handsome and part geek and Sebastian wants him bad. But this is Men on Edge, and when Sebastian wants to play with someone, there's going to be trouble.
Sebastian pounces on his teacher and ties him with rope and duct tapes his mouth. Sebastian's partner in crime, Van Darkholme arrives to just time to help Sebastian rip off the teacher's clothes. And Mr. Smith has a very lean and ripped hairy body. Sebastian uses the vibrating hitachi on the teacher's hard dick and brings him right to the edge of nutting. But Sebastian has been thinking about this for a long time and he's got a whole line-up of things he wants to try on his bound teacher.
He drives Mr. Smith's erection crazy with a masturbation sleeve, then he uses a hollowed out apple on the teacher's cock. And they stuff a broom handle up his ass too. They finally tie Mr. Smith to his desk and fire up the fucking machine and while it's plowing his hole, Sebastian plays with the teacher's cock one last time before letting him blow all over his hairy chest and belly.