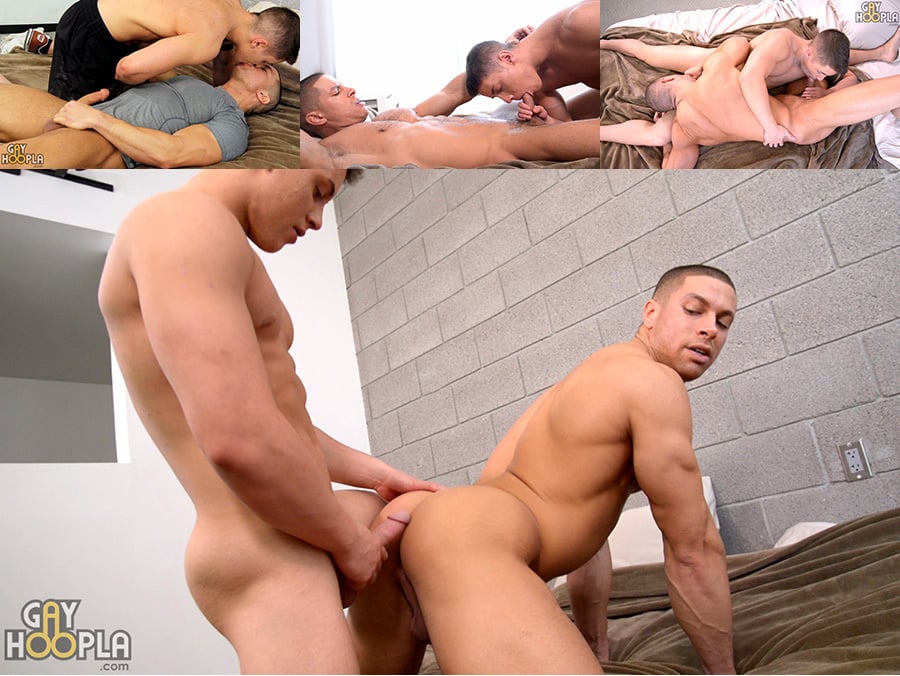 Muscle hunk Sean Costin is my favourite hunk over at Gay Hoopla and not because he's got a beautiful body or he's terribly handsome (both of which are true), but because out of all the guys over there, he seems to enjoy the sex the most -- I never get the impression he's just going through the motions for a pay cheque. I still can't get over that time Derek Jones fucked Sean's ass, it was such an intense boning session and I compare all of Costin's videos to this one scene. In this latest Sean Costin hits the sheets with Sebastian Hook, so come inside and see how it measures up.
Sean and Sebastian have been chatting on Grindr and finally agreed to meet in the park for a workout. Can you do that on Grindr? Find a workout buddy? I thought everyone was looking for the closest dick walking down the street. After the meet and greet and lots of fist pumping in the park, the guys head back to Sean's place. Honestly, I do find these Gay Hoopla scenarios not only implausible, but unbelievable since they often make a big deal a guy being straight or fucking ass for the first time. Maybe this turns some of you on, but I'd rather just be done with the straight guy back story and get on with watching sexy guys fucking. How about you? Does the straight guy fantasy get you revving?
Sean is on his hands and knees in the middle of the bed and Sebastian is rubbing and admiring the biggest ass he's ever seen. "I haven't had one in there in a long time," Sean says. Sebastian is anxious to get between Sean's huge round cheeks, so he slides in. It's such a turn-on seeing a smaller guy like Sebastian mounting and dominating a big muscle hunk like Sean. He corrals Sean's ass between his legs, pumps it, smacks it, and even pushes Sean's head into the pillow and makes him say that he likes it. It still doesn't beat the fuck Derek gave Sean, but it's worth watching, especially when Sean sits on Sebastian's dick and sails his own cumshot right onto the guy's neck, then down his ripped torso. Wow! That was an awesome finish.