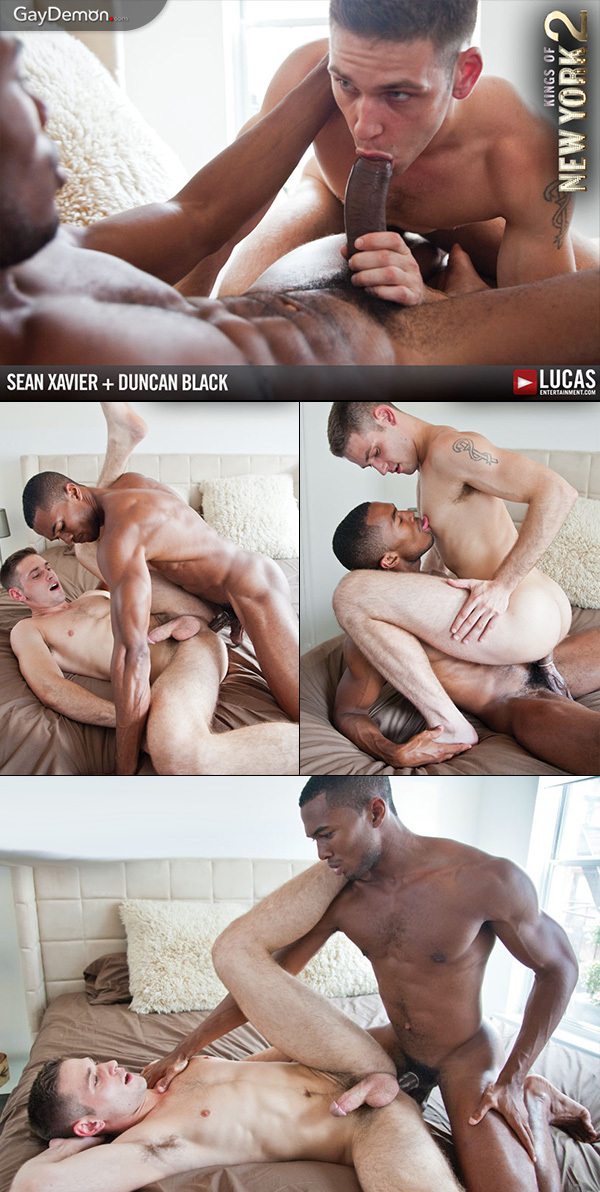 Kings of New York Season 2 is out from Lucas Entertainment and it's off to a great start with Duncan Black taking Sean Xavier's monster cock up his butt. The two are playing lovers whose marriage is over and they've been trying to get things settled with their divorce lawyer. Why Duncan would give up access to Sean's long, beautiful dick is beyond me.
And while Duncan doesn't love Sean anymore, he still gets turned on by his ex-lover's huge cock. So the guys are trying to be civil about their break-up and decide maybe there's another way to sort out their differences and who gets what in the divorce. So they head to the bedroom for one last romp.
Aside from having a monster dick, Sean Xavier has a beautiful ripped body and it's no more apparent when you see him on top of his lover, thrusting his long pole into Duncan's ass. Sean's tight cords of muscle tighten with every thrust and glisten with sweat. But Duncan's not content just to lie there and take it and he climbs on top on his lover and pounds Sean's dick into his ass good and hard. And Sean ends the frenzied fuck session when unloads a healthy creamy load of spunk into Duncan's mouth. I don't know if these ex-lovers have sorted out the divorce, but it sure was hot to watch.
See more at Lucas Entertainment