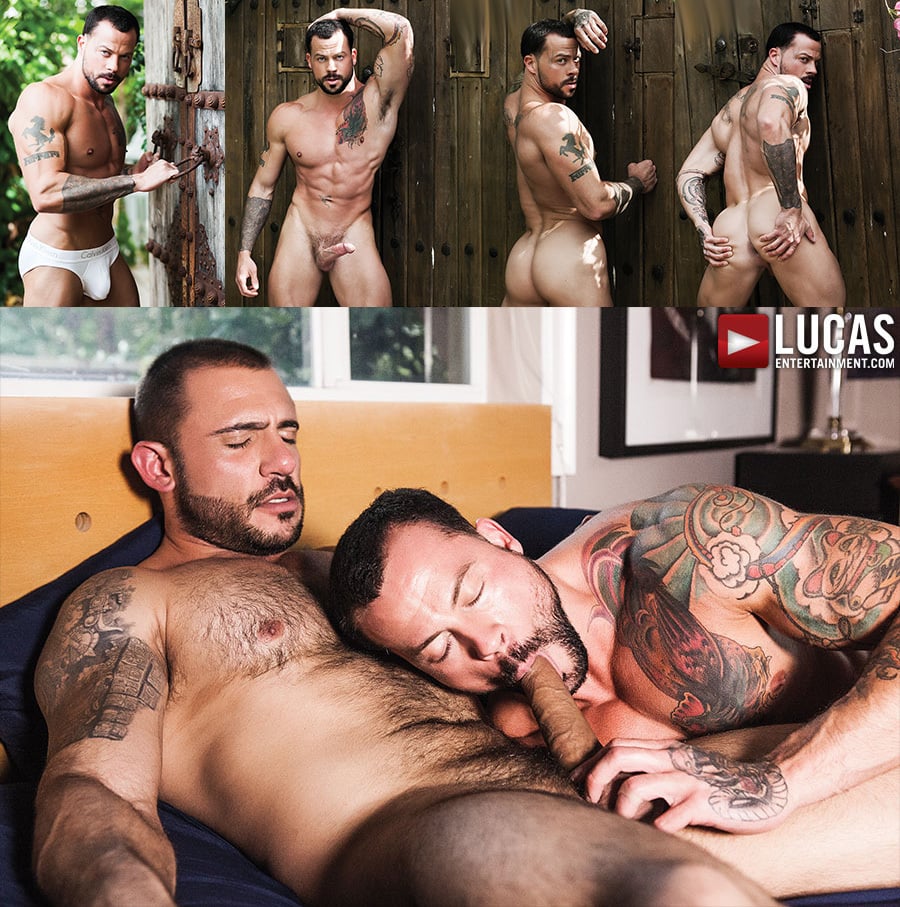 Porn studios still like making a big splash when a performer crosses over to the bareback side. It's no longer the shocking news that it used to be, and in the case of Sean Duran, sometimes such announcements leave me scratching my head: "Really? I thought he already barebacked." But no, apparently this Lucas Entertainment scene is Duran's first time bottoming raw -- well, on camera anyway -- and Pedro Andreas is a superb top who fucks him through seven positions before they finally unload their nuts.
Sean Duran has also let his hair grow. I definitely prefer him bald or with a close-cropped cut, but nevertheless, he's still looking sexy. I don't mind all his tattoos either, although I do find the one on his hand distracting, especially when he's stroking his bone. But I'd deal with it all. Pedro Andreas is pretty well hung, his Lucas Entertainment profile says that he's nine inches long -- I don't know about that -- but it's his meaty girth that gets me revving to see Duran taking it up his fine, firm butt. But first, Sean swallows Pedro's erection and he does it so well. Pedro loves his mouth as much as I enjoy watching.
Duran gets down on all fours on the bed and Pedro dives in with his tongue. Pedro lines up his big hooked dick against Sean's smooth pucker and Sean says, "Open that hole up." And Pedro takes him at his word and plunges all the way in with one hard thrust. Sean caterwauls, but Pedro ignores him and starts pumping forcefully. That is how you open up a hole, isn't it? Pedro and Sean move through seven position changes until they're finally back where they started. Pedro drills Sean's ass doggy style and cums inside, and then Sean unloads his nuts all over the purple bedspread.
See more at Lucas Entertainment