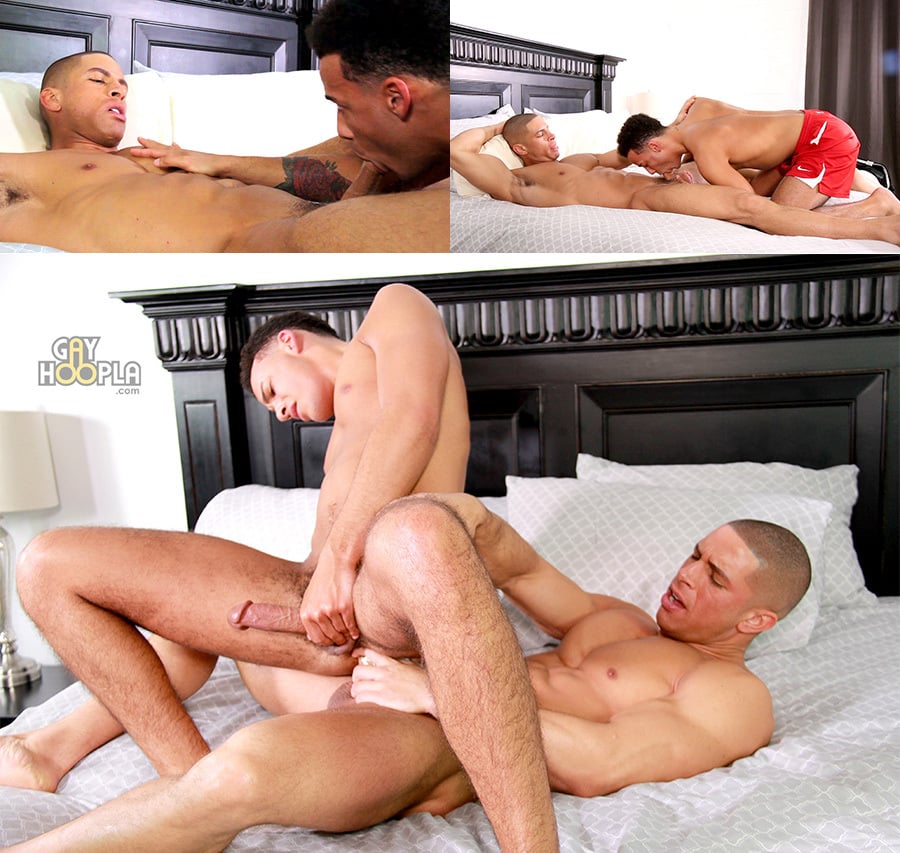 I've seen Sean Costin fuck in a couple of scenes at Gay Hoopla and he has quickly become one of my faves over there. It took me a few tries watching Derek Jones pounding Sean's bubble butt before I could make it through the video without without blowing too early. That was one serious ball buster of a scene. Sean Costin has bottomed in his last two videos, so I was in the mood to see him fucking ass, I was even more turned on when I saw how much smaller Leo Bosh was. There's nothing like watching a big hunk pounding a smaller guy into the mattress.
This scene is hot from the get-go. Sean and Leo are kissing. "I want you to taste me," Sean saying pulling off his shorts. And taste him Leo does, balls deep with his nose buried in Sean's bush, although technically he wasn't "tasting" Sean since his taste buds aren't in the the back of his throat. After this scene, the producer asked Leo, "This wasn't your first time with a guy, right?" Leo said it wasn't. D'uh! Do you even have to ask? The lad swallows dick like he's been practicing. A lot.
Costin rolls Leo over to feast on his hole. He pushes his ass back into Sean's face and shivering approvingly. Again, in the post-sex interview, Leo says, "His tongue his huge. It felt so good." And Sean really enjoys Leo's ass, it looks like he didn't want to stop. "Leo's definitely more experienced," Sean says. "He was easier to fuck and that made it more enjoyable." In other words, Sean didn't have to fight to push his hard-on inside like he has with a tight-holed, straight dude. And judging by the wad of cream he blows across Leo's six pack, this fuck was very enjoyable indeed.