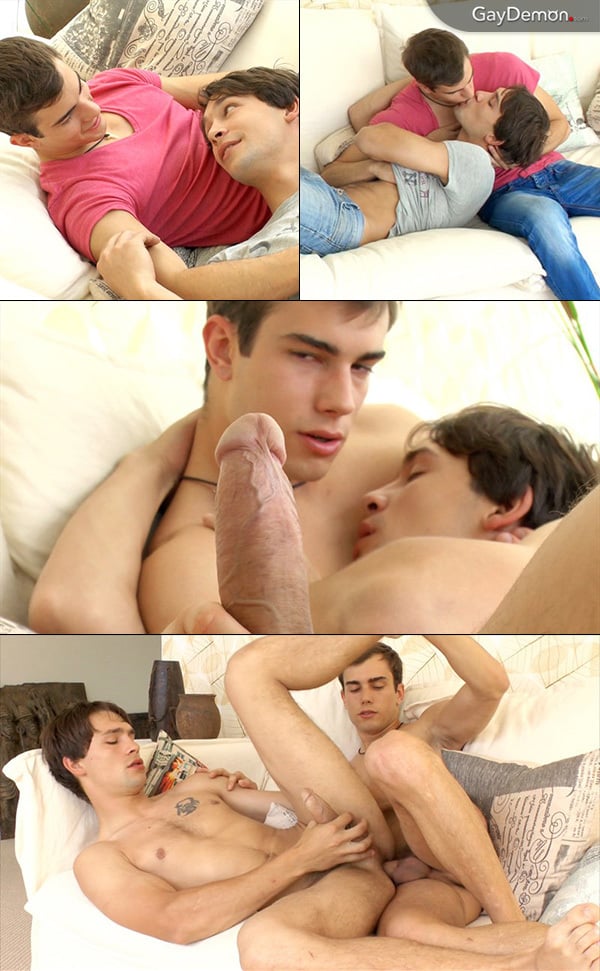 I'm always a sucker for the romantic scenes -- love is grand! Tim Campbell and Claude Sorel are snuggling on the couch in this new scene from Bel Ami Online. They wearing jeans and bare feet -- one of my favourite things -- and they're cuddling and talking about talking their friendship to a new level.
After some passionate kissing the cocks start coming out, then the clothes come off, and they take turns swallowing each other's dicks. And holy shit! Tim Campbell has a beautiful, big, veiny piece of meat; Claude Sorel is decently-hung, but Tim's girthy cock is definitely my favourite.
I'm a bit of comme ci comme ca on this one because with the bigger and thicker boner, I think Tim should have fucked Claude's ass; but then with Tim bottoming, we get to see him playing with his fat dick while getting his hole drilled. Frankly, being denied seeing that fatty plunging Claude's bare hole got me even more revved up.
But they make up for it with a spectacular cum sequence: Tim is lying back fisting his fat dick and Claude face is hovering over it with his mouth open, suddenly Tim gushes his cum blast right up into Claude's mouth -- it's fucking hot!