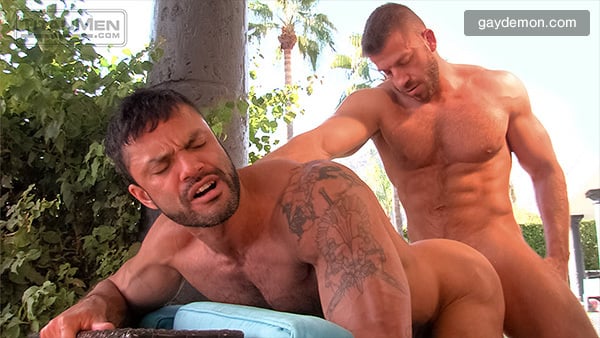 Rogan Richards has fucked both Jesse Jackman and Dario Beck at Titan Men, and now it's his turn to bend over. In Titan's new DVD Day into Night, Hunter Marx finds Rogan watching porn on his laptop and fisting his fat dick, so Hunter moves in for a feel and taste. And in the end, Hunter bends Rogan over a chair and bones his fantastic ass.
I'm not sure that I needed -- or wanted -- to see Rogan Richards getting fucked. Not because it was a bad scene, it was actually quite sexy, but I like keeping my favourite porn hunks in boxes. Rogan Richards has always been a top in porn, except for that one scene he did for Dirty Tony back in 2012, but that was long before anyone knew who he was. And since then, he's developed his on-screen persona where he's either going to pound you right off the bed or through the wall. Either way, there's no nice-and-easy fuck with Richards. He's not terribly concerned that your bum is getting sore or you need a break, it'll be over when he's done. That's his appeal to a bottom like me.
Richard and Hunter actually spend most of this scene kissing and swapping head. Two very different cocks: Hunter's is long, thick, and sporting a perfect upwards swoop and Rogan's is shorter, but fatter, and his dark-brown foreskin conceals his deliciously pink cock head. I enjoyed watching these men feasting on each other, they were enthusiastic and both suck cock very well. In the past, I have been turned on watching lots of other masculine men bending over and taking it, but not Rogan, not this time. Maybe it's because I have so much time invested in the fantasy of this Aussie hunk smashing into my ass and rendering it useless for sitting.
But maybe I'm suffering from post-traumatic stress syndrome from seeing one of my favourite top hunks crossing over to the dark side. I have some down time this weekend, so now that I've had time to let it sink in, I'm going to have another look. At the very least I know I'll enjoy seeing Hunter draining his nuts all over Rogan's ass.