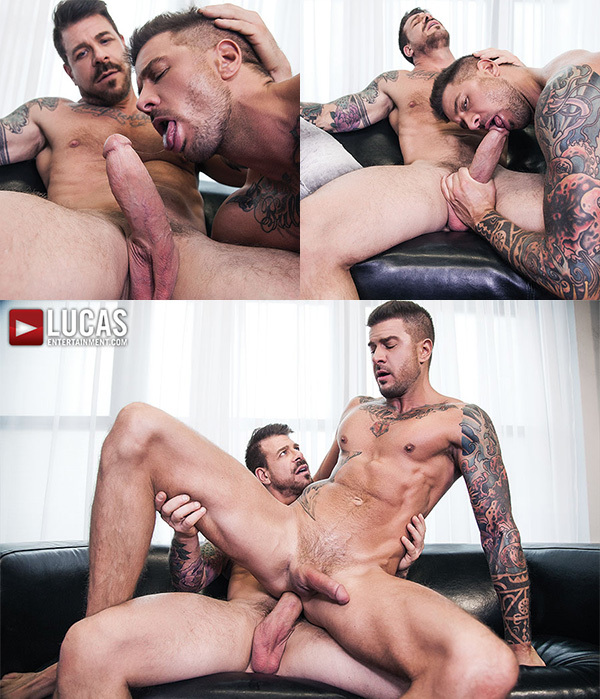 Dolf Dietrich is used to taking a giant cock up his ass, his partner is Drew Sebastian, fellow porn performer and owner of a whopping big cock. But even as big as Drew is, Rocco Steele is about an inch larger in both length and girth and Dietrich sits on Steele's enormous dick in his debut scene with Lucas Entertainment. Steele has done a couple of short scenes with Lucas, but this is really is first feature scene.
There's no oral in this video and that's a big disappointment. Few bottoms are able to swallow very much of Steele's cock, so I figured that with Dolf Dietrich practicing on Drew Sebastian a few times a week that we'd be treated to a much better head session. Instead, we forego blowjobs and the video starts off with Michael Lucas interviewing the pair. Too bad. They could have put the interview in a separate reel and let us watch Dolf struggle -- or not -- with Rocco's monster.
But my disappointment is short lived when Rocco lubes his dick and Dolf greases his hole, then he hops on and starts the long slide down to Rocco's nuts. Dolf actually cries a little, not with tears, but he whimpers as if his ass is really struggling. It felt like a real moment and that was hot. Once Dolf is used to Rocco's meat, he rocks slowly and sensuously on it with deep strokes. He never bounces on it like a pogo stick, and Rocco is just as happy having Dolf taking it slow and enjoying his dick. Rocco even shoots one of the bigger loads that I've seen come out of him.
See more at Lucas Entertainment