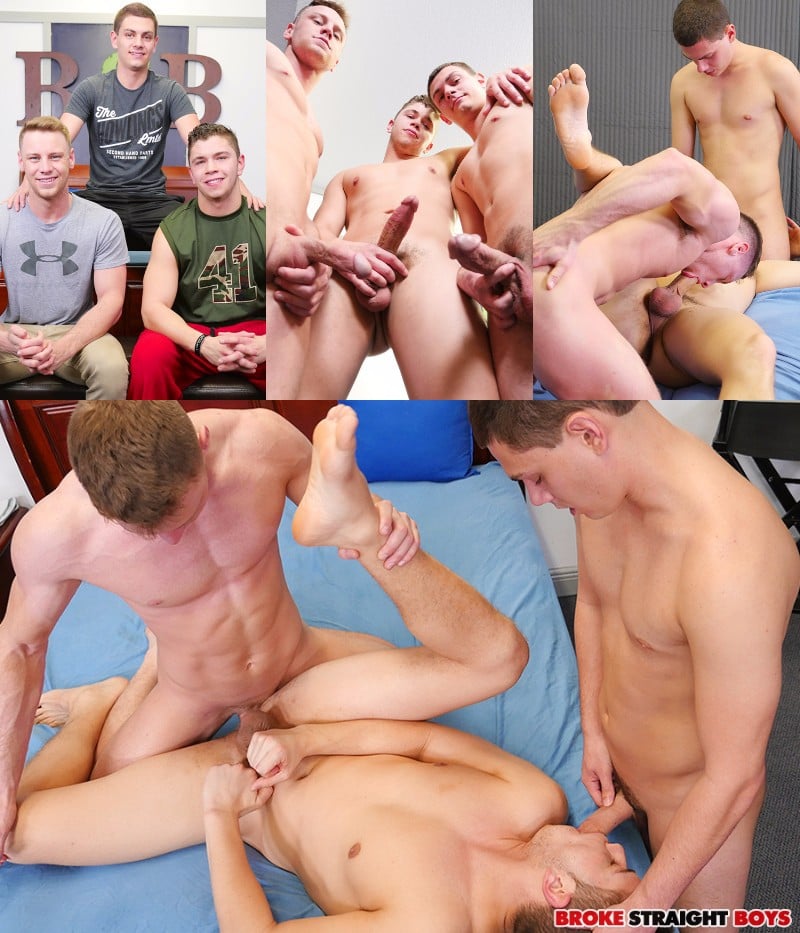 There's aren't a lot of threeways at Broke Straight Boys, there are some, but this is only the third one this year, and one of those was actually a fourway. Blond guy Brandon Evans is a little nervous because he has only been fucked twice and really prefers to top, which he's done quite a bit.
Tanner Valentino, Brandon Evans, and Tyler Griffin start off the video talking about "revenge fucking." Apparently the guys joke quite a bit about it around the Broke Straight Boys house. Essentially, a guy needs to remember when fucking one of his house buddies that there's always an opportunity for payback at some point. Tyler got it good from Tanner a couple of weeks ago and now Tyler's going to be doing some fucking, so Tanner's a little worried. "I don't know, man, he's pretty big."
Tanner starts off in the middle sucking Tyler's dick while Brandon sucks him. (Tanner is wearing the quasi Mohawk.) Eventually Brandon slips a finger inside Tanner's ass, then he pushes his cock in. But everyone gets a turn fucking and they end up in a pile with Brandon on the bottom. Tanner blows his wad first and Brandon cums on Tanner's face and Tyler gets jizz on him too.
See more at Broke Straight Boys