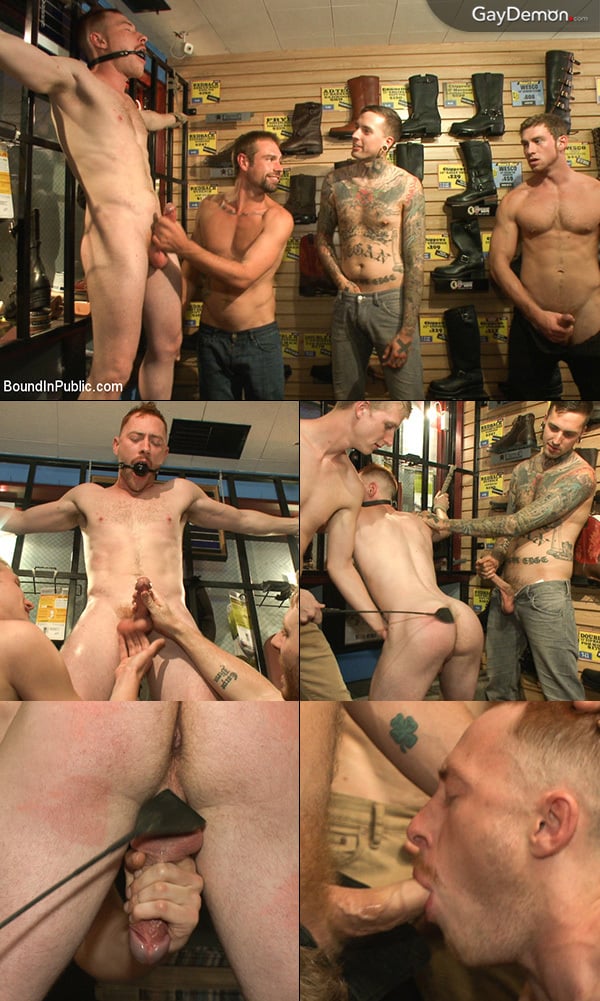 Redhead Damien Moreau is fairly new to the BDSM scene. A few weeks back he filmed his first scene for Bound in Public. He played lazy store worker who was taking too long of a smoking break outside and found out what the store owner does to his slacking workers -- he sends a crowd of men outside to gang bang their ass. In this new scene, Moreau is working in a boot store. Well he's not really working, and that's the problem. So his co-workers and a few of their friends close the shop early and teach this lazy slut that they won't put up with his bad attitude.
Moreau quickly finds himself stripped and tied with rope to some bars in the store. With a ball gag in his mouth and his arms secured, Moreau is helpless as the guys start milking his big-nobbed dick -- he's packing a big, juicy mushroom head. The men untie their sex slave and bind his hands back to the bars, but this time, his tender ass is rearing the crowd. One of these nasty fuckers uses a riding crop on Moreau's white butt and gets his blazing red. "Look at that, the harder I whip you the harder your cock gets," his tormentor says. Moreau bellows as this pervert whacks his hard-on with the riding crop.
Connor Maguire gets the first crack at Moreau's ass and shoves his huge cock inside and fucks him hard. A couple of the other guys hold Moreau's ass wide open and delight in watching Maguire's big tool sliding in and out. But the fun is just beginning. Moreau is forced to lie back on a fucking bench and the crowd takes turns on his ass. One by by they drain their balls all over his face. All the while a couple of guys are edging Damien's mushroom-head dick. He's pleading for release, but they've got some fresh hell in store for this lazy fucker.