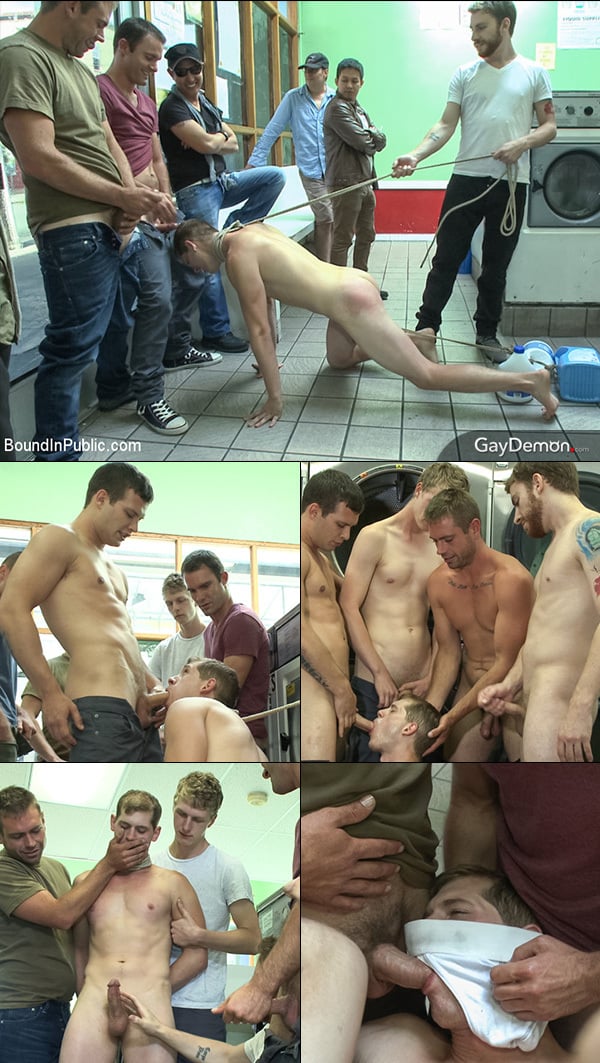 We're back at the Bound in Public laundromat and another rude punk, Jayden Ellis, has helped himself to someone else's dryer. And around here, a guy only steals another guy's dryer once. The gang has returned to the laundromat and start doling out their own brand of justice. They jump Jayden, some of the men strip him naked while another pulls his clothes out of the dryer and throws them all over the floor.
They tie a couple of detergent and bleach bottles around Jayden's cock and balls and make him crawl through the laundromat pulling the heavy load behind him. Jayden crawls to the front of the store where three guys are lined up with their dicks pulled out of their jeans and waiting for servicing. Then they tie this punk to the laundry cart and fuck his ass.
They push Jayden's head into one of the dryers and flog his bare ass. Then for the final humiliation they circle around him, clip a clothes pin zipper to his torso, and order him to jack off. The two zippers are attached to the laundry cart, and just as Jayden starts panting that he's going to cum, someone pushes the cart hard, ripping the clothes pins off the punk's sensitive skin. Denied his cumshot, this punk gets splashed with one load of cum after another; when they're done his face is a cummy mess. To clean him up, they dump a bucket of soapy water all over him, then drag his naked body through his clothes that lie all over the floor. So the next time you're thinking about stealing a guy's dryer, think again.