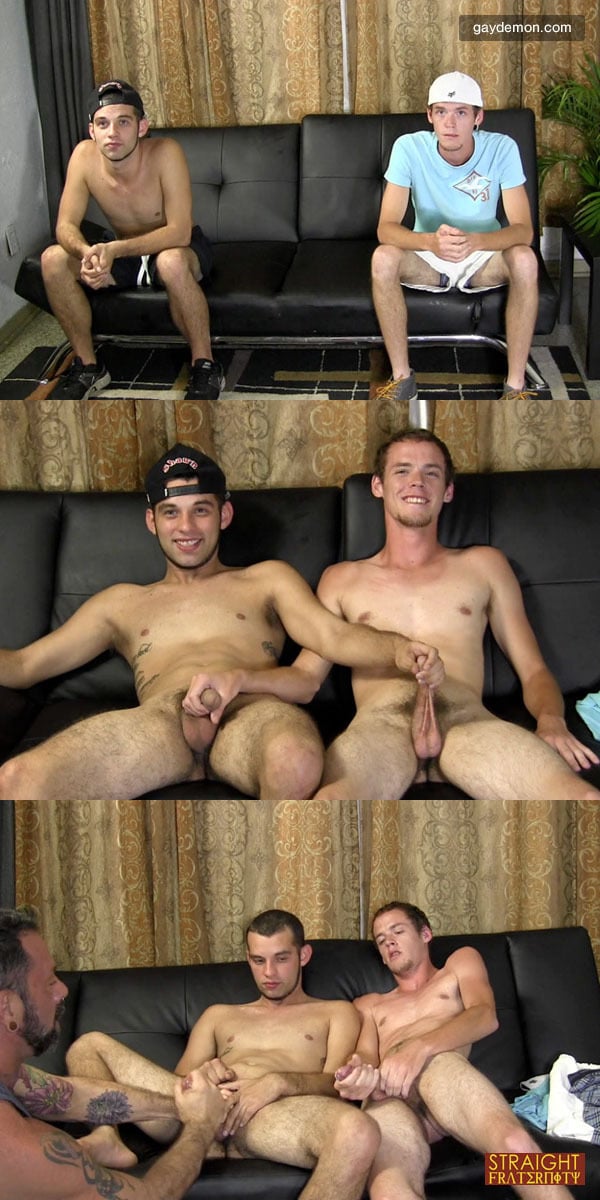 Chris and Dixon are two hot young straight guys sitting side-by-side on the Straight Fraternity couch and seemingly willing to do whatever it takes to earn some fast cash. Some mutual cock stroking leads to some oral action and ends in an intense prostate fingering induced orgasm for one guy and two cum loads for the other!
21yo Chris and 24yo Dixon are sitting on either end of the couch, just about as far apart as they can get, two obviously straight guys, neither too sure about what's about to happen, and the cameraman actually has to tell them to sit closer together! They comply and joke about it a bit before getting naked and taking each other's soft cock in hand - both fondling and stroking another guy's cock for the first time!
Before long Chris moves down and starts to suck on Dixon's cock. Dixon has never has a guy suck his cock before, but he's one cool dude, and goes with the flow, and later, when asked to get down and suck on Chris's cock, he readily complies. Chris can't help himself and his cock grows harder and fatter by the second as Dixon's lips and mouth work their oral miracles. Dixon seems to like sucking cock, as it's not long before he has to sit back up and jerk his own cock, as he's ready to cum. He takes aim and squirts his load all over Chris's hairy leg.
Now its Chris's time to produce his money shot, but he suddenly gets a bit of stage fright and finds he can't cum. Dixon offers to lend a hand and while licking and sucking on Chris's nipples, he also stokes his balls and fingers his arsehole, but it's still not enough for the poor guy! So the more experienced hand of the cameraman takes over and starts jerking on Chris's fat cock shaft. This sight gets Dixon all hot and bothered again and he shoots his SECOND load in only a few minutes! Meanwhile poor Chris is still trying to cum and he takes over stoking his cock again while the cameraman inserts a finger deep into Chris's arsehole, finds his prostate and stimulates it as Chris continues to rapidly pound his cock in his tight fist - then all of a sudden his face lights up - he's ready to cum - his load squirts out like a geyser all over his cock head and down into his pubes! Then we hear the voice of Chris saying how intense his orgasm was and that he'd never experienced anything like it before. Sounds like the Straight Fraternity cameraman's finger sure hit the right spot!
See more at Straight Fraternity