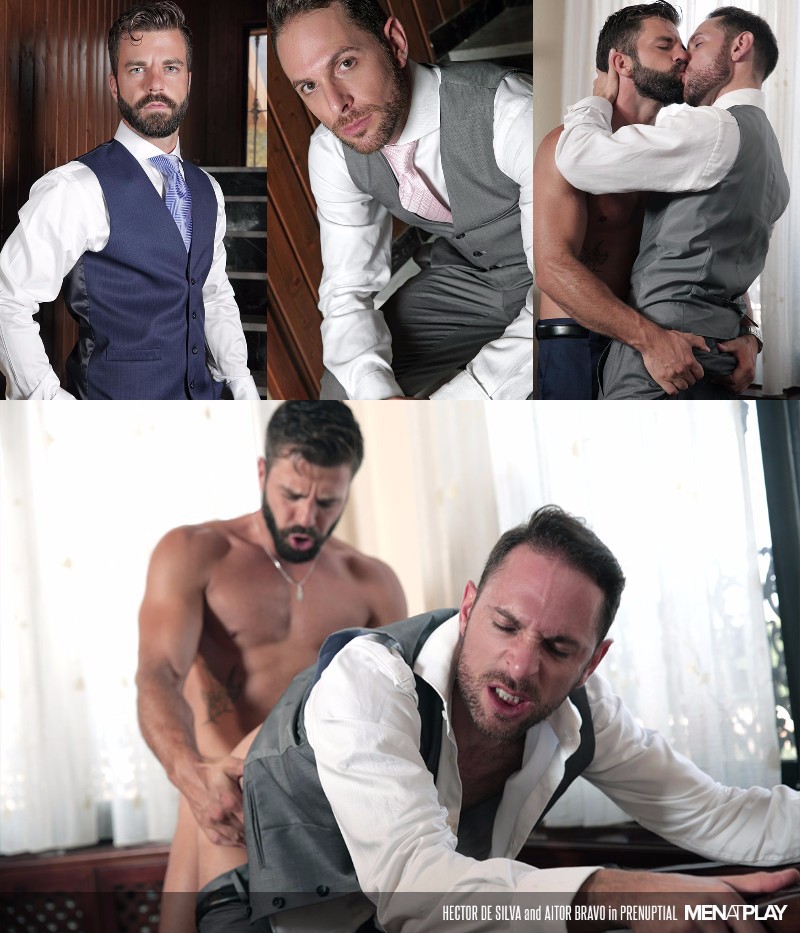 Get a Whole Month of Men at Play for Only $20
It's the wedding day and Hector de Silva is a wreck. The tables aren't prepared, the waiters haven't arrive, nothing is ready. "The day is going to be a shambles," he says. Best man Aitor Bravo to the rescue, but this is Pornland so you know how he's going to help, don't you?
Aitor Bravo isn't completely new to gay porn, but he's close. He's filmed scenes for Kristen Bjorn, MEN.com, and Tim Tales, and now he's lending his ass to Hector de Silva in this new Men at Play scene called Prenuptial. Aitor is the best man and he tries to calm down the groom with a glass of wine, but when Hector unexpectedly turns around, he bumps Aitor's hand and red wine splashes all over his shirt.
Aitor still tries to save the day by offering to give Hector his clothes so the wedding can continue. (Only in Pornland.) The two begin stripping so they can swap outfits, except when Aitor sees Hector's sexy naked body he loses control. Hector first bends him over the dining table for a screw, then the pair end up on the table with Aitor riding the groom's cock. Now what's going to happen if those cater waiters suddenly arrive? They'll have to clean up the cum first, won't they? And won't the bride be wondering why her husband's cock tastes like lube and ass?