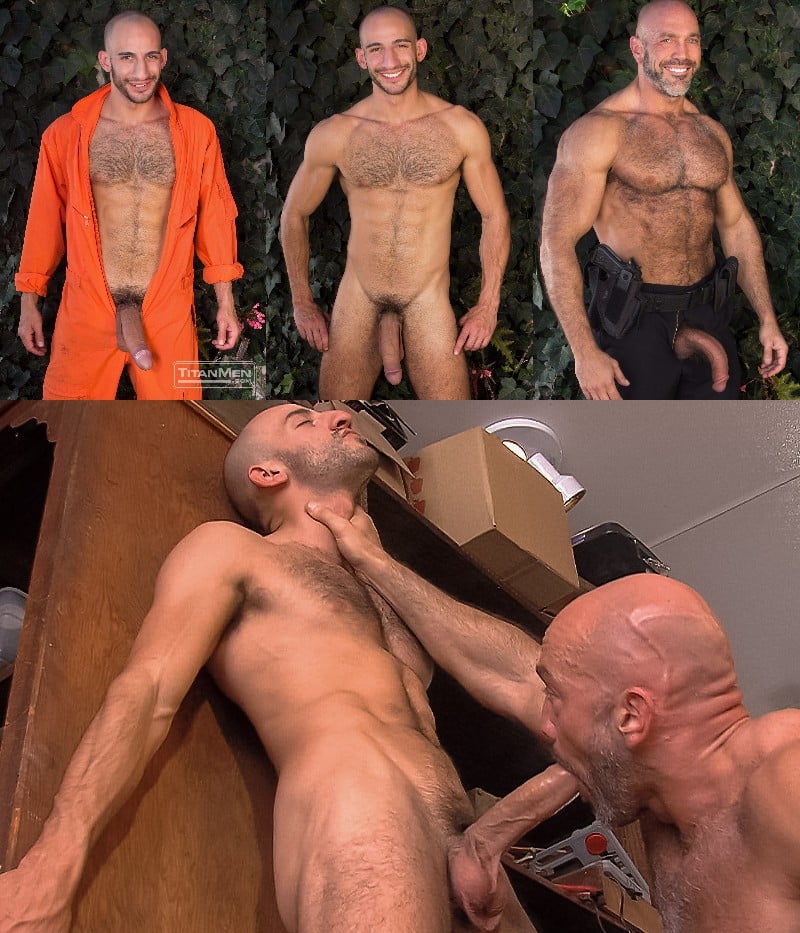 Eric Nero has escaped from jail and police officer Jesse Jackman is hot on his tail, literally. Titan Men's new series called Jail Break debuted Christmas eve, so if you need some alone time to recover from all that family cheer, this might be a good place to start. Come inside and see what happens when Jackman finally catches his prisoner. You know what happens, but come and look anyway.
Escapee Eric Nero weaves his way through the woods, running for his life, but officer Jesse Jackman is in hot pursuit, and he's got his gun drawn. The sound of a helicopter hovering over head adds more drama to this chase scene. Nero makes his way to a shed in the woods and hides behind a tree, Jackman comes around the other side and tasers him. "Get on your knees!" Jackman bellows, then he pulls out his cock and pulls Nero's head onto it. Oh geez. Nero doesn't even get handcuffed. He doesn't even beg the officer to let him go with that quintessential porn line, "Please, I'll do anything."
Eric sucks the cop's big, curved dick by the tree, then Jackman drags him into the shed. Nero services the officer some more, then Jackman gets a taste of the prisoner's massive dick. Holy shit! The guys in cell block G are going to miss than dick, aren't they? Jackman bends Eric over and feasts on his ass, then fucks it. The prisoner ends up on his back and empties his balls with the cock pounding his hole. There are two more scenes coming in the Jail Break series: Tommy Defendi fucks Brendan Patrick and Hunter Marx fucks Drake Jayden.