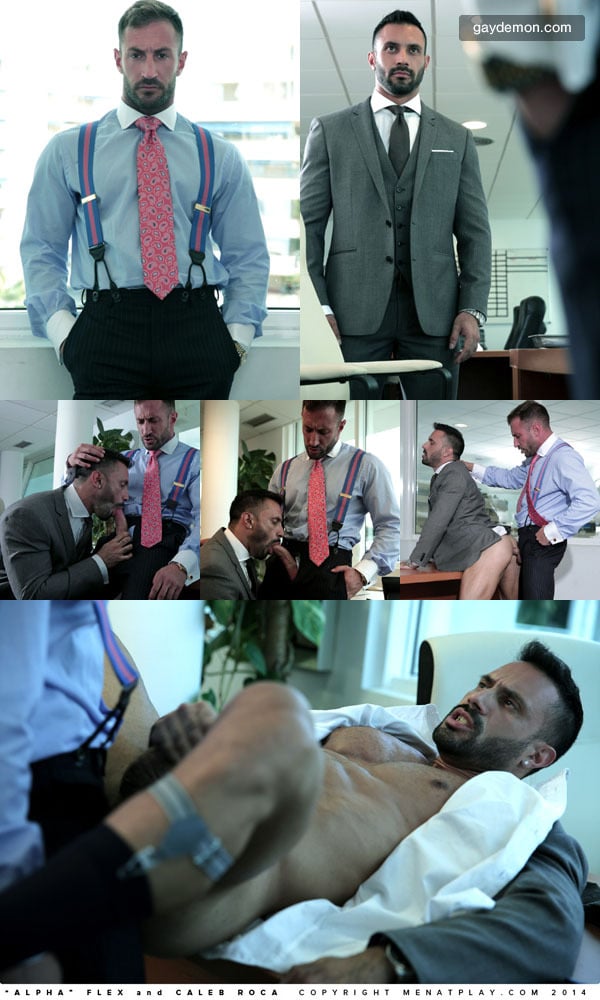 Caleb Roca is the boss - the Alpha Male - in his corner of corporate world. The Men At Play office is always full of handsome, masculine men, all required to wear a suit and tie all day long - they must always be neat and presentable to clients whenever one turns up for high level meetings. They must also be ready, willing and able to service the Boss - at any time too!
As a new comer to the team, Flex has climbed the ranks fast, he's clever and popular, a quick-learner, charismatic and a natural businessman - but he still has one hurdle to jump before he gets to become a team-leader - he still needs to get the final nod and approval from the Alpha Man himself - Caleb.
Caleb has a formidable reputation - despite being straight, he is known for demanding instant 'favours' from his staff, totally unannounced, at any time. No-one wanting to further themselves within the organisation can refuse his demands, so today, when Caleb takes out his meaty, uncut dick and stands in front of Flex's desk, Flex knows exactly what he has to do and quickly gets down on his knees to give him the best blow job he's ever given!
Flex licks, tongues and sucks the monster dick, sucking and swallowing it deep within his throat. Then the Boss turns his attention to Flex's amazing, muscular bubble butt, throwing him against his desk and giving him a hard, straight-man fucking until Flex can't take it anymore and squirts his cum load all over his own tight washboard abs!