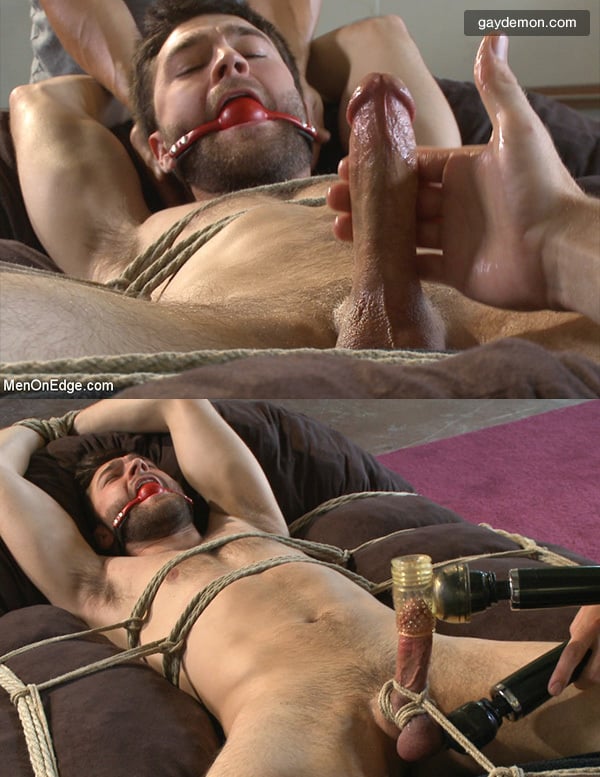 I think Men on Edge is a good place for a newcomer to have his first BDSM experience. Abel Archer is a bearded bi guy who had never done a bondage before. And while these Men on Edge sessions can get pretty intense with flogging and forced hole play, I think getting edged to point of busting your nuts isn't a bad experience. Except Van Darkholme and Sebastian Keys always have a trick or two up their sleeves.
Archer is a sexy guy. I like his slender body, which is moderately furry, but I can't take my eyes off his dark, hairy armpits. Archer starts off bound and watches as Sebastian sucks his dick and teases his sensitive tip with his fingers. Then they blindfold him and get him to the edge of cumming.
They bend him over and fuck his ass with a dildo until long, sticky threads of jizz ooze out of his cock and slide to the floor. They know he's getting close again and stop. By the end of the session, Archer is pleading, "Please, let me cum ... please." The first arc of spunk flies out of Archer's dick, then another and another, until his belly is covered in spunk. Now he's begging Sebastian to stop jacking his sensitive cock. So Van Darkholme tickles Archer's bare feet instead and ruins that post cumshot euphoria he was hoping to settle into.
So how about you? Does this look like something you'd like to try out? Or is it a no way?