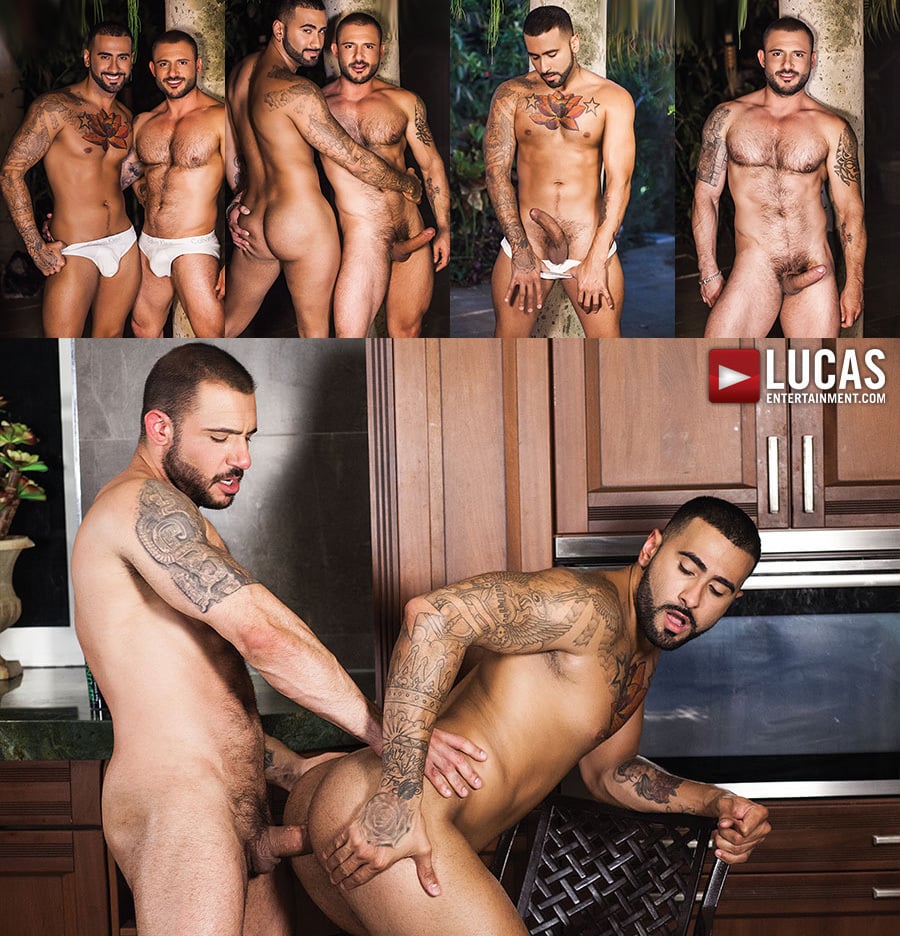 If a guy's going to film with Lucas Entertainment, it's only a matter of time before Pedro Andreas gets a crack at his ass. This week is Rikk York's turn and this scene makes Pedro's dirty dozen. When the scene opens, Pedro is sitting on the kitchen counter and his dick is already rock hard, Rikk is between his legs and they kiss for a few seconds before Rikk gulps Pedro's boner.
I've been seeing a lot of kitchen sex these past couple of weeks. I'm not limber enough to be jumping up on kitchen counters or hanging off the cupboards while squatting my ass over the kitchen sink. And I'm clumsy, so no doubt during my dismount I'd land in the cat food dish and send kibble flying all over the place. But Rikk York has no problem kneeling on the counter and presenting his ass to Pedro for a good tongue fucking. And it's a position that really does York's ass justice -- beautiful sight.
Rikk kneels on a kitchen chair and Pedro slides into his wet hole. He plugs Rikk for a couple of minutes, then the guys spending the next few minutes with Pedro sitting in the chair and Rikk riding him front and backwards. They sure do give that chair a workout. Rikk kneels back on it for the finale and Pedro fucks him doggy style and douses his hole with an impressive cum stream. It splatters Rikk's rosebud, then slides down his balls and onto the floor.
See more at Lucas Entertainment