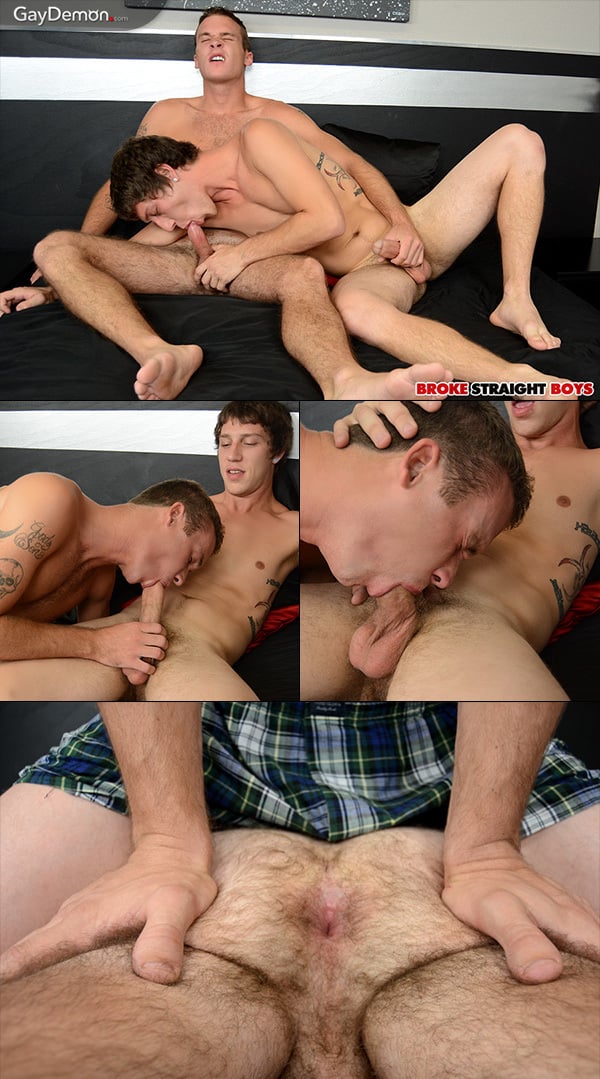 A guy's always got to be careful at Broke Straight Boys because if he's a little too nasty, there's always payback, and it can be a bitch. The last time Paul Canon and James Romeo filmed together, Paul got fucked by James; today it's the other way around. And Romeo hasn't been fucked by a guy before, so Paul is claiming his cherry, and this isn't the first virgin Paul has broken in.
"I sort of feel sorry for him," Paul says. "I know how it feels." But if James wants his wad of cash, he's got to get to it. So after some kissing, the guys trade blowjobs and Paul pushes his buddy's head all the way down his shaft, just to let him know how big and hard it dick is. When it comes time to fuck, Paul puts James on his belly to show us how furry this bottom's ass is and he spreads James' cheeks wide and gives us a look at his hairy, virgin hole. "I promise I'll take it easy," Paul says.
He starts sliding in his raw dick and it's so hot watching him bury his tool in Romeo's hairy hole. Paul has untrimmed pubes, so hairy fans are going to love this fuck scene. After a couple of different positions, Paul decides to put this new bottom out of his misery, he rolls him on his side and while drilling his ass says, "I want you to cum for me." James doesn't have to be told twice, he wants this over, so he shoots his cum load all over himself. But Paul's got a final humiliating surprise when he unloads his balls in James' mouth. I wonder if James got paid extra for the creamy milk shake.
See more at Broke Straight Boys