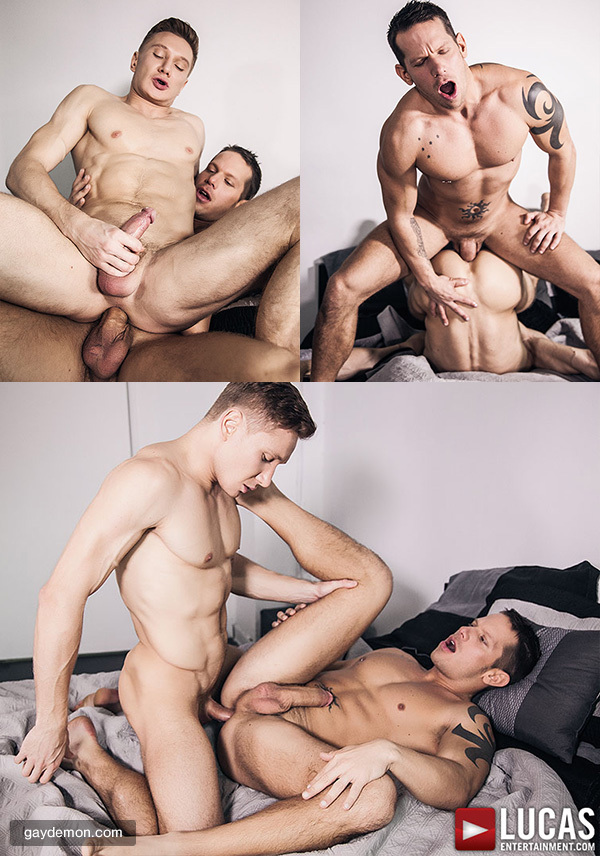 I love watching men kiss, but there's not often enough of it in gay porn. It's even hotter watching men necking when they've got the hots for each other. Let's face it, lots of porn couplings are guys just going through the motions, pretending to be turned on and some do a better job of it than others. So it's exciting to watch when they're really on fire. Shane Frost and Conrad Blu open up their latest Lucas Entertainment scene with a long, passionate kissing sequence and it's almost as if they don't want to do anything else, but of course they do.
After some dick sucking, Shane pushes Conrad's legs forward and eats the bottom's delicious butt hole -- it's beautiful pink and fleshy -- and Shane gets Conrad's pucker moist and glistening. Then he pushes his eight inches inside. Shane is a passionate fucker and I love watching him screw. But the backwards plunge fucking gets me rock hard and wanting to cum. Conrad's legs are pushed way over his head and Shane squats over him backwards plunging his hole. While Conrad enjoys the fuck, he's got the perfect view of Shane's hole and he reaches up and rubs it with his fingers.
Conrad fucks Shane, too, but I think he's a much better bottom. His fucking is much more mechanical. He rams his dick inside Shane and drills him hard for a couple of minutes until he makes Shane blast all over his belly. Then Conrad flips around and reverse sits on Shane's hard-on, riding him until his dick explodes in the air.
See more at Lucas Entertainment