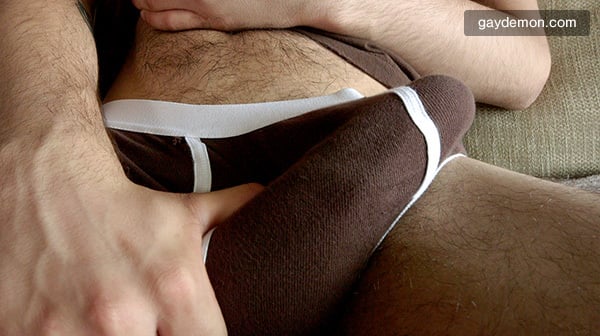 If I were the stalker type, I might steal Ben Taylor's underwear out of his gym bag in the locker room. I'd scurry home to press his sweaty briefs against my nose, breathing in his musk while dreaming of the cock that made that bulging impression. If I were the stalker type, I might leave a note in Ben's gym bag: Come and ram your dick down my throat and you can have your underwear back. But I'm not the stalker type. Well, not any more.
Ben Taylor gets me firing hard. I like furry legs and bare feet, uncut cocks, sexy lips, and guys who aren't afraid to play with their butt holes on camera. And this You Love Jack jack-off session has 'em all. I can't imagine anything hotter than kneeling in front of that sofa, rubbing Ben's hairy thighs while he thumbs his stick dick towards my open mouth.
Ben lies on his side and shoves that butt plug in his ass. After he's had some bum fun, he kneels and hangs off the back of the couch and aims his stuffed hole at the camera. He pulls the plug out of his ass and the cocky little bastard pulls his furry butt cheeks until his hole gapes. Then he squeezes and loosens his muscles winking his hole at us. Tease! If you don't blow your wad when you see that, you're a better man than me.