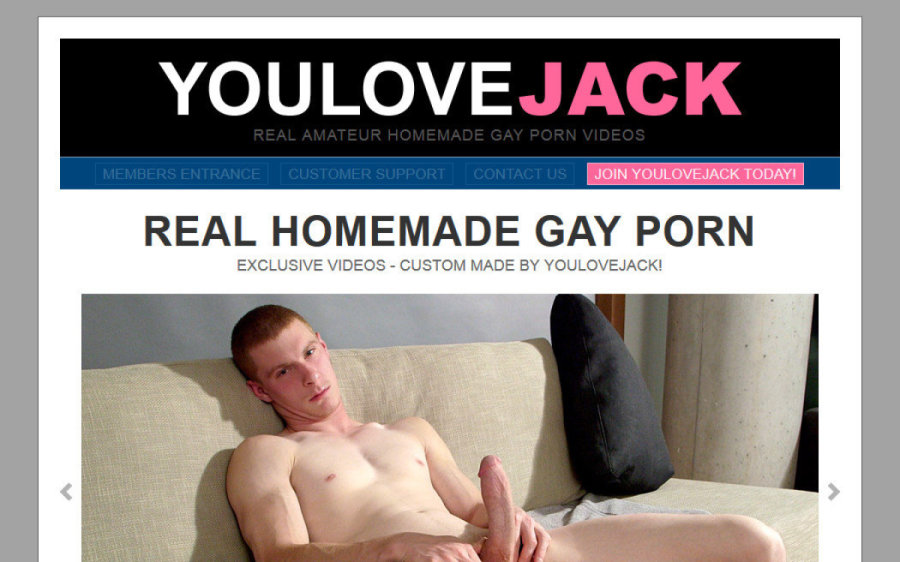 In 2007, You Love Jack started off with a fresh idea - they found amateur guys, gave them video cameras and let them shoot their own porn videos in the privacy of their own homes. This means the guys are much more relaxed and there is no director or cameraman talking during the video. There are a lot of amateur sites out there but what we don't usually get to see is guys jacking off or playing with their asses in their own homes, the way they do when no one is around. Some of the guys suck their own cocks or eat their own cum, which makes for very happy endings.
The movies have an intimate, private feel. Most of us have fantasized about masturbating or fucking on camera, and this is the kind of video I'd want to do if I did a movie. Each guy or guys are free to do whatever they'd like, and that includes stripping, stroking and lots of assplay. There's also a handful of guy-on-guy videos, but most of the videos focus on a guy getting off in the privacy of his own bedroom (or living room). You Love Jack has something good going with their self-vids and horny amateur models. And it's worth mentioning that some of these guys have very big dicks, always a plus.
You Love Jack offers 239 exclusive videos. They're downloadable, DRM-free and offered in MP4 format. The newer videos are sized at 1280x720; they look good, and are offered in two smaller sizes that should play on most mobiles. The older vids are smaller, shown at 512x384, and quality varies depending on age from amateur to good amateur. Each video can also be streamed, and while the oldest vids are amateur quality, the newer ones look good, sharp and clear.
Each video comes with a set of pics. These are screencaps, which makes sense since there's no cameraman at the shoots. The pictures are shown at 400x300 to 1024x576 depending on the age of the video they're from, and the quality is better than one expects from screencaps. They are also well chosen, so expect decent quality pics that show the action really well. So well, in fact, that I was disappointed that the pic sets weren't offered in zip files.
Beside the exclusive videos and pics, You Love Jack also offers some gay feeds. There are three feeds total, and if you love amateur guys, I think you'll like the bonus sites - Dick Show, Squirtz and Video Boys. All three together add plenty of twinks, male masturbation and steamy gay sex for members.
Sadly, the only real issue here is that it appears that the site has stopped updating. Updates were irregular some time ago, and judging by the lack of site growth and removal of the update date on the most recent video, it seems that the site has stopped producing new content. Even so, the newer videos hold up well and the content and the guys are hot, so there's enough to keep most members busy for a month or two. One other thing worth knowing is that some time back the site owner chose to remove some of the oldest videos due to quality issues.
You Love Jack offers exclusive videos of real amateur guys masturbating or fucking in of their own bedrooms or living rooms. The performers are a mix of twinks, average guys and scruffy skateboarder types, and they aren't shy on camera because there's no cameraman or crew. There's lots of assplay, stripping, stroking, and a few of the performers suck their own cocks. There are 239 exclusive, downloadable videos to download, stream or watch on your mobile, and each video comes with a set of pics. While there are no more updates, members get access to three bonus feeds. And even though the site no is no longer growing, You Love Jack is still a great place to watch horny all-American cuties and regular guys in action.
Click here to visit You Love Jack
---
Bookmark and Share
---