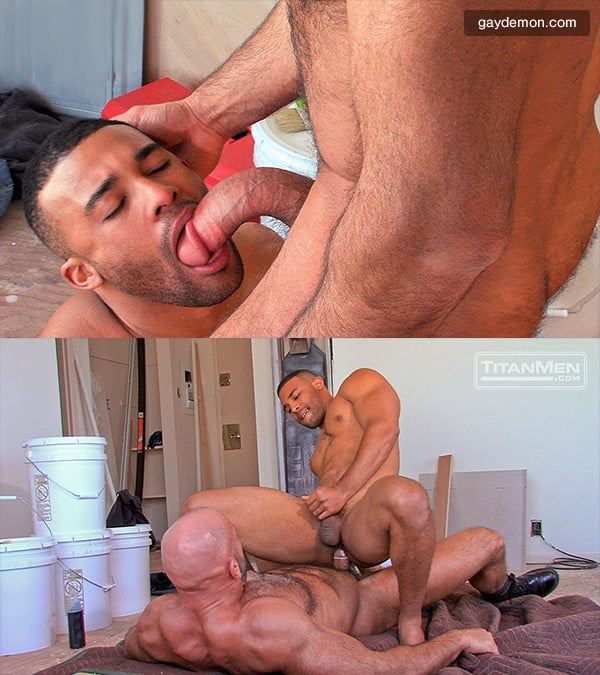 How do you even fuck a cock like Jesse Jackman's? That severe curve makes it extra challenging. Look at that thing, it hooks down like a tap. I marvel at it every time I see it. As Jay Bentley shows us in Titan Men's Heavy Load, it's not hard sucking Jackman's dick, you've just got to come at it on the right angle and then it just slides down your throat.
Bentley is a good-looking lad, quite beautiful really, with a couple days worth of face scruff and plump lips. And when the scene opens, Jackman is taking full advantage of those lips with some passionate kissing. Then he nods his head and the two men move to the center of the room so Bentley can demonstrate how he sucks a big meaty hook. It's not bad at all while it's still soft, but once it starts stiffening up, Bentley just opens his mouth and lets Jackman fuck it.
And it turns out that fucking Jackman's cock isn't that difficult either, but I think the secret is that his dick doesn't really get bone hard. Jackman puts Jay's legs up on his chest and fucks the lad on his back. Then Jay takes over and sits on it and rides. And while I was impressed with Jay's ability to handle Jackman's meat, I was gobsmacked by the load of jizz he sprayed all over and around Jesse. He showered a great splattering of spunk on Jackman's salt 'n pepper chest, but even sent several squirts over Jesse's head and shoulders.