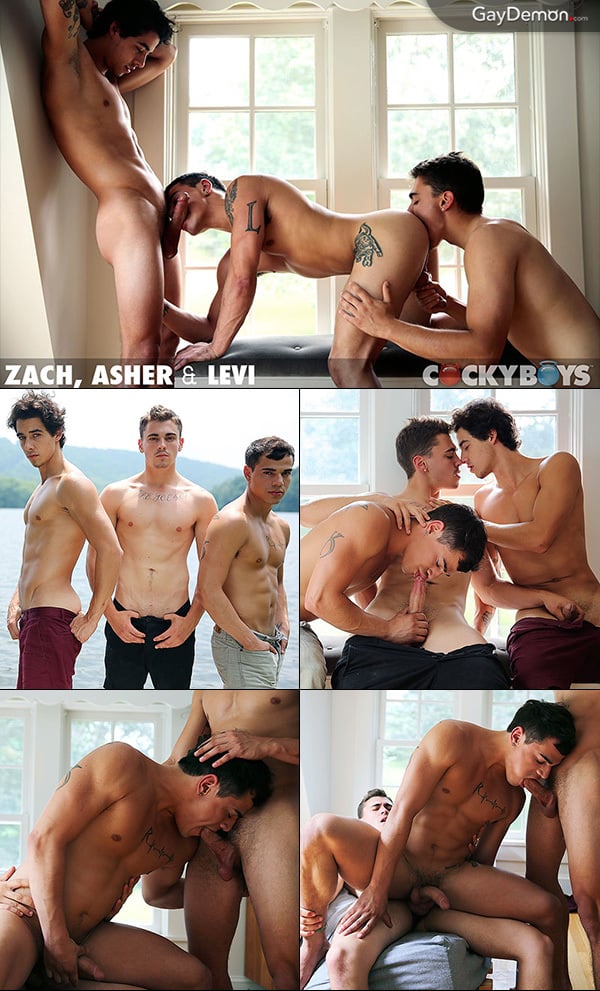 Nobody does threeway sex like Cocky Boys. They're always so passionate with hot bodies fitting together perfectly. Threesomes are fun, as long as you're not the odd man out, but Zach, Asher, and Levi have great chemistry together and they seem more like brothers than fuck buddies. And there's definitely no one left out in this steamy threeway.
The scene opens with each of the guys talking about what they like about the other two, and this builds excitement -- you know the sex is going to be good. And it is. But they start off horsing around and getting to know each other in the pool, and when some underwater dick sucking gets them excited, they head indoors.
Zach and Asher have already fucked together, so they know each other well enough, but Levi is new to this mix. In his opening interview he said that he loved Asher's thick cock and bubble butt, and the stud could "do whatever he wants to me." The thing that makes this threesome such a turn-on is that all three guys are completely versatile. Zach fucks Levi, who pumps Asher's ass, and Asher flips Levi around and takes his turn on his beautiful round butt. And one of them ends up completely covered in three loads of jizz, but I won't spoil the ending and tell you who it is.