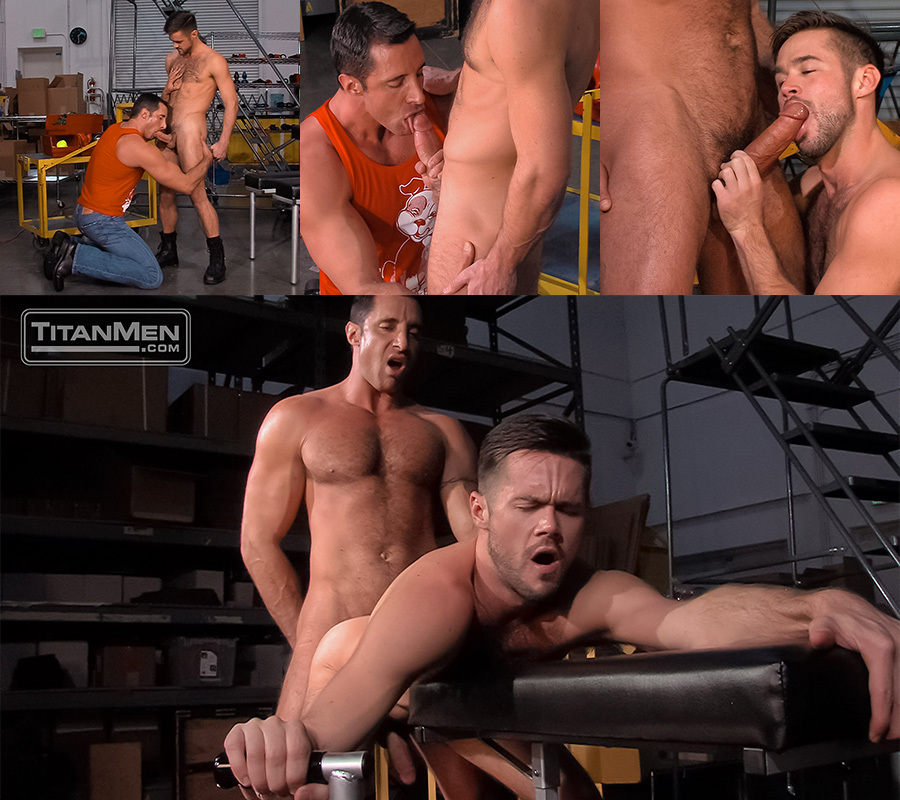 You've probably heard the term "fluffer" before, these were the guys on porn sets who helped the performers get and stay hard, or maybe they helped the pornstar get over the edge so he could shoot his big load for the cameras. Some think they were real, others thing they were fantasy hype. In this Titan Men scene from their new DVD called Upper Hand, photographer Nick Capra has to act as his own fluffer. He's photographing Mike De Marko in the warehouse for a catalog of cock rings. "You know what would be awesome?" Nick begins. "If you could give me full wood." Mike grabs his huge dick and says, "Can you help me with that?"
I'd like to tell you that Nick puts Mike's dick in his mouth, gets it hard, then picks up his camera and carries on with the shoot, but you know that's not how it's going to go. And who could blame Nick? Mike De Marko has a magnificently large penis and it's quite enjoyable to suck, but he's a cheeky bugger, too, so after getting a bit of head, Mike kneels to take care of the photograph's dick. Nick has a big one, too, but you never really appreciate how thick it is until you see it in a guy's mouth. And while Mike bobs on it, his own hard-on swings to the rhythm.
The photo shoot isn't going to happen now, well, not until these two horny men unload their nuts. So Nick pushes Mike down on a bench and fucks the daylights out of him. It's a good thing this bench is rigged with handles otherwise Nick might have fucked Mike right off it and onto the floor. And after a hard drilling, Mike lies back and pumps out his load on his furry belly with Nick power fucking to his own creamy conclusion.