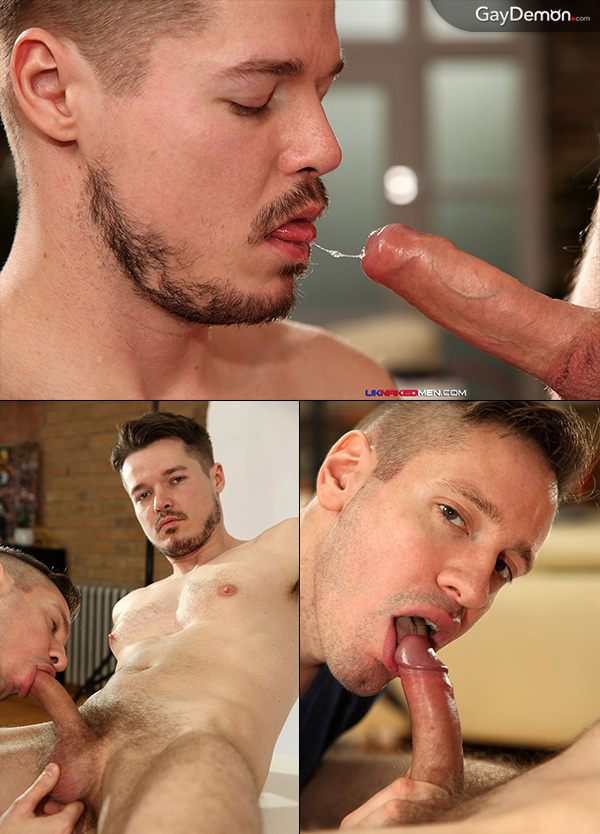 Nicholas Key is a horny Brit doing a photo shoot for UK Naked Men. He finds the photographer, Adam Dacre, very sexy with his good looks and face full of scruff. Nicholas continues stripping out of his clothes while Adam clicks away with his camera. When the photographer gets a little too close, Nicholas grabs his head and pulls the photographer in for a kiss.
The guys slowly strip out of their clothes, kissing all the while, then they swap blowjobs, sucking each other's juicy uncut cocks. Dacre has a beautiful downward-curved cock that slides easily down Nicholas' throat. Then the bottom gets down on all fours and offers his ass. After rimming his butt hole, Adam feeds a long doubled-head sex toy into the bottom's ass. This gets Nicholas horny for the real thing, so he lies back on the table and Adam squats and shoves his hard dick up the boy's ass. I love watching Adam fucking in this position, it really shows off his strong, beefy body.
After screwing Nicholas' ass good and hard, Adam Dacre squats over Nicholas and unloads his balls all over the bottom.