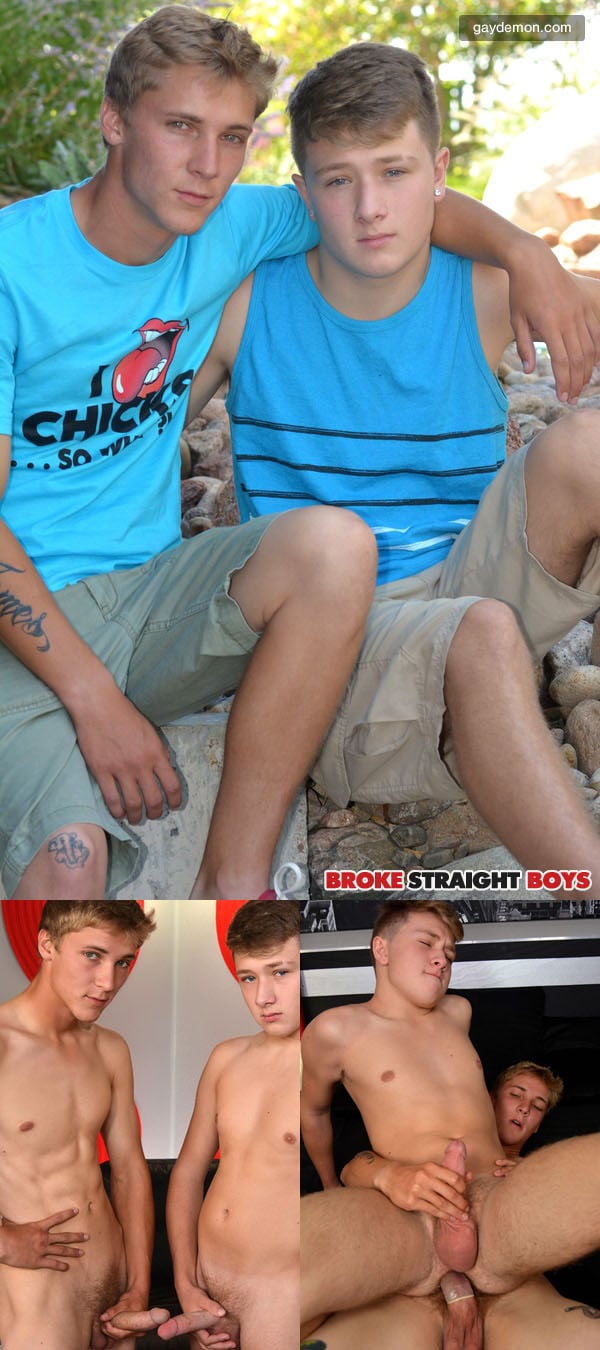 Brody Lasko is the cute straight newbie over at Broke Straight Boys and this video is gonna be his bottoming debut - yep, it's anal cherry popping time! And the hunky top getting to do the honours is the lucky and sexy Ayden Troy!
As the scene gets started young Brody is naturally nervous about what is about to happen, but he's excited about it too, as evidenced by his rock hard cock that pops out of his undies when Ayden suggests he might like to start things off with a blow job. Ayden chows down on the nicely-sized cut meat hanging between Brody's thighs, and as Brody lies back, breathing heavily, thoroughly enjoying the oral treatment - he moans "yeah, suck my big cock", and Ayden complies.
Next they switch round and Brody sucks Ayden's cock like a seasoned pro - he has great technique, and licks and sucks his way up and down Ayden's hard shaft with his mouth and toys gently with Ayden's balls with his fingers. This naturally gets Ayden totally hot and hard and horny, and he's soon ready to pop that cherry!
They start fucking in an odd position, with Brody face-down, arms and head on the floor, while his legs and feet are up on a chair - and Ayden is standing in-between his legs and plowing his no-longer-virgin hole. They switch positions a few times, and ultimately end up with Brody standing, with one leg up on a footstool, and Ayden is standing behind and fucking him from the rear. They both seem to get plenty of pleasure from this position, as at one point Brody even suggests that Ayden might like to fuck harder! As Ayden fucks Brody's butt hole, he reaches around and grabs Brody's cock and jerks him off until he cum, amazingly, with Ayden's cock still in his butt and pounding his hole! Then Ayden pulls out and finishes himself off by hand and produces a massive load all over Brody's sore and no longer virgin arsehole! Gotta say, this is a pretty full-on first time fuck scene, Brody gets an A for effort - Ayden must be a good teacher!
See more at Broke Straight Boys