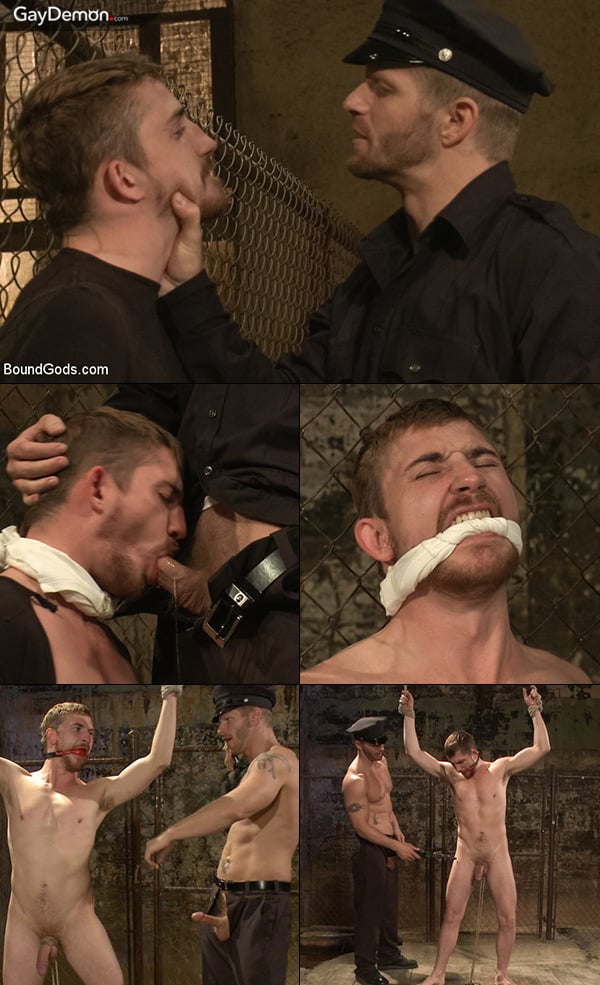 You don't ever want to find yourself in officer Jeremy Stevens' jail, or maybe you do. In this scene from Bound Gods, Stevens is working over burglar Dayton O'Connor. Stevens caught O'Connor masked and breaking into a home, so he arrested him and carted him off to his own private prison cell.
Officer Stevens starts off with a strip search and Stevens wraps his fist around his prisoner's nuts and pulls on them hard. O'Connor bellows in pain, but this session is just getting started. Restrained and unable to move much, O'Connor endures an electric wand and screams as this nasty cop zaps his sensitive balls with electricity.
After being whipped with a flogger, O'Connor is tied up with his legs in the air and Stevens fucks his ass hard and relentlessly. But O'Connor doesn't seem to mind this kind of punishment. Even gagged you can still hear the prisoner begging, "Oh yeah, please fuck my hole". Stevens blasts a shower of cum all over his prisoner, then milks a load of spunk out of his cock before taking him downtown for booking. Where do I turn myself in? I've been a bad burglar, too.