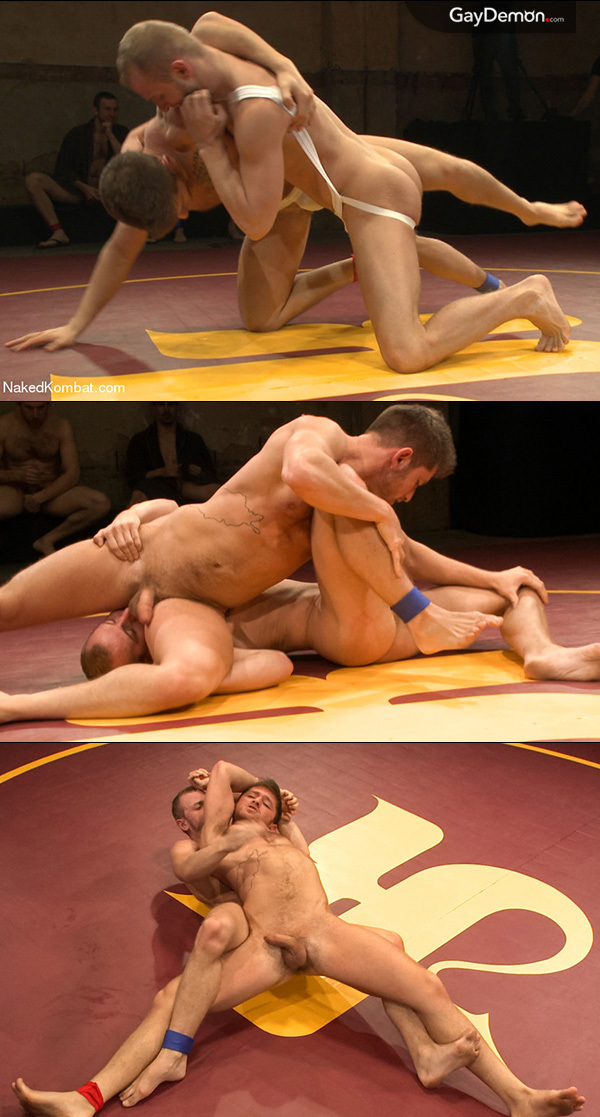 I'm so excited that one of my favorite sites is updating again. Naked Kombat was one of the few true naked wrestling sites out there and they were hugely popular for a couple of years. Then they stopped updating. When my editor assigned me a Naked Kombat review last week (click that link and you can read the current site review, the new one will be up in another week or so) I was thrilled to learn that the site had started a new season back in September and they've been updating the site weekly since then. Gosh, where have I been?
This new naked wrestling bout with Steve Sterling and Randall O'Reilly is pretty hot. Steve lost his first Naked Kombat match against DJ and he's back hoping to win because he's dying to fuck some ass. But newcomer Randall O'Reilly has considerable varsity wrestling experience under his belt and he's not going down without a fight.
But what's exciting about this scene is that as Sterling and O'Reilly are wrestling on the mats, you'll notice two other studs sitting on the benches off to the sides, watching and jerking their cocks. They're getting their dicks hard because when this scene is over, the loser is getting gang banged. And Steve Sterling gets his wish, winning the match and fucking this loser's ass while the other two force feed him dick.